However, if there has been something that has revolutionized the way of working in 2020, it has been the pandemic suffered worldwide by Covid-19.
In recent months, millions of people around the planet have been forced to modify their work system to be able to do it from home. Work from home is here to stay.
Throughout this article we are going to review everything related to teleworking, but if you are looking for a new business opportunity that allows you to work from anywhere, the development and sale of Mobile Applications is undoubtedly a great option.
In Scoreapps we propose a business model focused on the creation and sales of Apps without having programming knowledge with which you can achieve great benefits thanks among other things to passive income.
So before you start, if you are looking to have your own business and work from home, we invite you to participate in our free webinar on how to create your own app selling business without need to know how to program and get recurring income.

Advantages of working from home
Today there are dozens of options to find work from home that allow you to have a profitable source of income without leaving the comfort of your home. Would you like to be one of those lucky people who do their jobs from home? These are the strengths of telework :
Enjoy more free time . You save time by not having to travel to go to an office, use public transport or experience traffic jams.
Being at home is easier to combine your professional life with leisure .
It is an opportunity to dedicate yourself to what you like the most thanks to new technologies.
The family conciliation becomes something real. You have more quality time to spend with your children.
Fixed expenses are reduced of a business related to rent or supplies, so you can work more flexibly or even allow yourself the luxury of working part-time.

Main sectors in telework
It is a fact that companies are beginning to outsource services and more and more are offering jobs from home. We offer you a series of opportunities for you to undertake from the comfort of your home. You dare?
Entrepreneurship : It is clear that the best opportunity that working from home offers you is to undertake
And honestly, if what you are looking for is THE BEST WORK FROM HOME , keep reading.
The development and sale of mobile applications without programming is your best opportunity because it meets all the features you are looking for. In principle it may be unfamiliar to you, but …
In the last 7 years at Scoreapps we have generated more than 60 million euros with Apps without programming and we work with more than 2,500 entrepreneurs who have already launched their own Apps business without the need for technical knowledge. you can be the next one!
Do you want to change your life and launch your own mobile application business ?
You have to be very clear about it, you don't need to know how to program to set up a Apps business . We work with a pre-developed technology that allows us to make an application for Android or iOS in just a couple of hours thanks to a Drag & amp; Drop.
You are facing a great opportunity thanks to the growth that mobile technology is experiencing.
You just have to look at these data:
80% of online searches are made from mobile devices.
The growth forecast for 2021 is 270%, Wow!
90% of SMEs still do not have an App for their business.
It is clear that a app sales business has to do very badly to not be successful. But don't worry, our reseller program not only offers you the technology, but also specific training and constant support so that you can go as far as you want. You dare?
Visit our website and find out about all the options!
But if you want to see some other sectors where teleworking has an opportunity, we leave you some more:
Virtual assistant : consists of providing a series of virtual services to other companies from home. The most common jobs have to do with marketing, administrative tasks or technical support to the office.
Do creative work : You can make gift items such as jewelry, interior design consulting services or graphic design for other companies. If you have a creative streak or an unexploited talent this is a good opportunity for you to put it to work.
Gastronomy from home : the production of food at home is heavily regulated, but it is not impossible for you to do this job. To do this, you need a separate kitchen, a food handler's card, and an inspector to check the house.
On the other hand, more and more companies are realizing the savings and advantages of their workers being able to work from home. So in many cases it is not necessary to undertake to start teleworking.

Current situation of work from home by country
Before starting to see the different jobs that we can do from the comfort of our home or where to find them, it is important to see how the different Spanish-speaking countries are doing. Since not all systems promote or support the freelancers or entrepreneurs who decide to work independently. We show you the data by country.
Work from home in Spain
According to a study carried out in 2018, only 3% of the Spanish population has the privilege of working from home or can afford not to go to the office to carry out their day-to-day professional tasks.
The work from home in Spain is a reality that has been possible thanks to a series of factors such as:
The format of advertising and the growth of social networks.
The change that has occurred in the way we relate to each other. Now we use apps to meet people or look for jobs.
The immediacy of the services. We want it all instantly.
The downfall of automated jobs.
Work from home in Mexico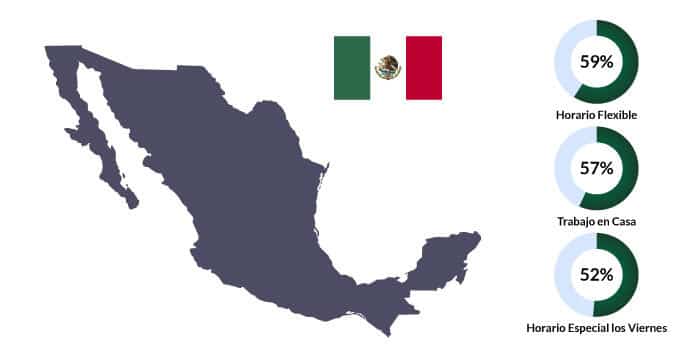 The work from home market in Mexico shows encouraging data. Thus, 59% of companies in the country already have flexible hours, 57% incorporated home office work and 52% implemented special hours on Friday.
On the other hand, a study by the Citrix firm reveals that 48% of Mexicans would change jobs if they were given the option to work remotely .
Working from home in Chile
The index of self-employed workers in Chile increased by 3.4% in the last year. However, most of these take place in informal conditions, which in the long term translates into poor working conditions.
In this sense, 72.2% of informal self-employed workers were distributed in five sectors : commerce, agriculture and fishing, manufacturing industries, construction, transport and storage.
Work from home in Argentina
If you look back on Argentina, you can see that it is worse than before, so that citizens have less money to spend and the psychological tone is worse, since there is less security.
In this economic and psychological environment, working from home part-time or full-time begins to acquire considerable relevance. If we do a Google search for the term "Work from home in Argentina", the phrase shows a trend growing, reaching maximum at the present time.
Working from home in Colombia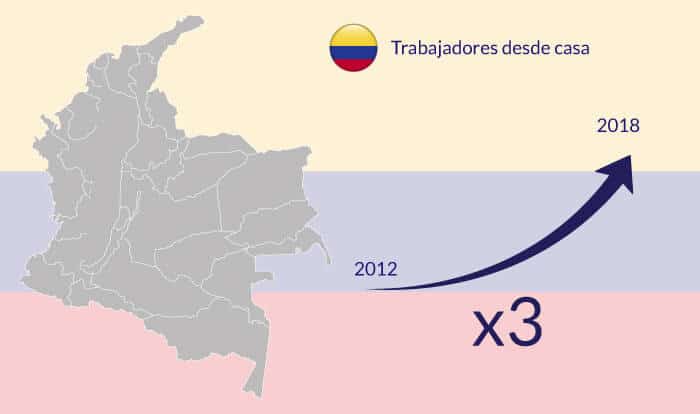 Colombia, according to the Ministry of Information Technologies and Telecommunications (MinTIC), registered a total of 122,278 workers from home in 2018, a figure that is three times higher than in 2012 .
By cities, Bogotá is the one that concentrates most of these jobs. These people, according to the legal framework of teleworking, have the same contractual conditions as those of an office worker.
Work from home in Peru
In Peru there are 54.9% independent workers as reflected by the International Labor Organization. Although these figures are linked to informality, there is a percentage of workers who are taking advantage of the digital wave to develop their profession from home.
In this way, the freelance modality could displace full-time employment . According to a Deloitte report, currently 37% of companies in Peru are considering this option.

Examples of companies that offer work from home
When looking for a job from home, you basically have two options:
Websites of job offers full or part time: the profile of each advertisement usually specifies if the job is carried out remotely or if there is the possibility of doing it.
Portals that offer specific tasks and work from home : you will act as a freelancer doing a specific job. If they like the way you work and the result, they will probably continue to count on you in the future and you can create long-term relationships.
But where do I start? Where do I look for work from home? We tell you which are the websites, companies, portals and startups where it is easier to find a job to do from home.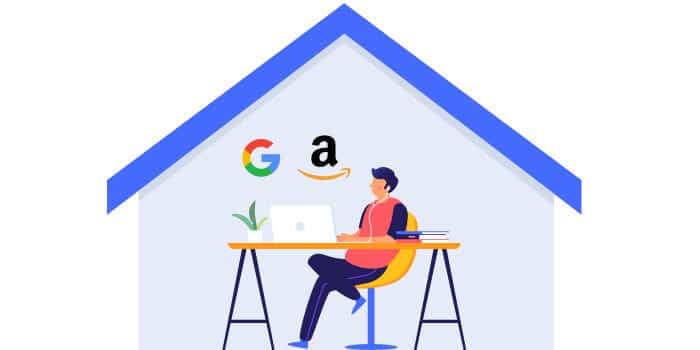 Work at Amazon from home
Amazon offers a wide variety of jobs that you can perform from the comfort of your home. They are usually looking for people to work from home in customer service or new technology-related positions.
Normally, if you are chosen by the company to work from home , an Amazon person will contact you to fully explain what the job consists of. In fact, they usually train you before developing one of the positions they offer.
The employment conditions provided by Amazon will vary depending on the position you are going to develop, as well as the working hours and projects. During peak seasons you may have to work 40 hours a week, including Sundays and holidays.
Work online for Google
To work on Google from home you can follow these simple steps:
Type in Google Careers web browser.
Click on the result that appears in the new window.
The platform will open where you will find information about the positions offered and about the company, which are mainly related to engineering and technology, web design, sales or marketing.
In addition, it also offers you the possibility of carrying out a specific search.
Job offers for freelance professionals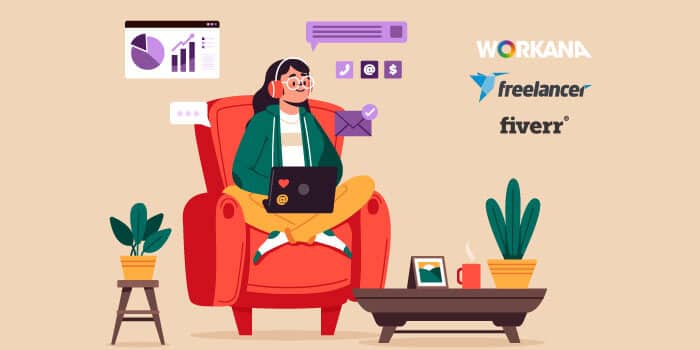 These are the main platforms where you can find new projects:
Workana
It is emerging as one of the reference portals in the Spanish language. The client launches an offer and the freelancers respond directly with their offer. It is a very agile platform, in which there are new offers every day, although there is also competition to access them.
Freelancer
The jobs they usually offer are related to the technology sector. They publish many offers, both for specific projects and for long-term jobs. Also the competition is considerable. The platform manages the payment and takes a commission.
Fiverr
In this case, it is the freelancer who offers the service and the client who gets in contact with him. It is organized into categories and the portal holds the money until the customer is satisfied with the result.
Startups that usually have active job-from-home offers
We present to you some of the companies of the moment that are expanding the most and that usually need professionals to do work from home .
Appen
It is an Australian technology services company providing opportunities in more than 100 countries. It serves some of the world's leading multinationals. On his website you will find work as a search engine evaluator, translator and teleoperador .
Fever
This Spanish emerging company has created an application that offers personalized leisure plans according to the profile of its users. It has more than 100 employees distributed throughout the world. In its employment section you can find programmer, copywriter or community manager jobs.
Coverfly
Its business model is based on an application to manage and optimize all customer insurance from the mobile. This startup has more than 50 workers and has been awarded on different occasions. Within its employment section you can find work related to the programming or business development sectors.
Ironhack
It is a training school for programmers in full international expansion. With offices in Germany, Spain, Portugal and Mexico, on its employment page it usually publishes offers compatible with work from home.
TravelPerk
It aims to become a comprehensive business travel manager for companies. They are present in several countries in Europe and usually have active offers for sales representatives or customer service.
Mr. Jeff
This Valencian company is outlined as a new business model in the laundry sector. It currently has more than 1000 clients and is in the process of expansion in Latin America and Asia.

10 jobs from home for the online environment
With the rise of technology and new business models, many services are needed online without the need for any physical presence. To be able to carry them out, you only need to have the necessary knowledge and a good internet connection at home.
1. Search engine evaluator: the work behind the algorithms
As you know, search engines like Google or Bing use algorithms to provide search results. What few people know is that behind it there is usually a group of people who verify that these results are correct.
Especially suitable for people with research skills, without fear of technology and with a general culture.
2. Community manager: one of the professions with the most demand in online marketing
Social media management is one of the professions with the highest demand in the field of online marketing . Currently the Community Manager is a leading figure in companies. He is in charge of finding and providing quality content that responds to a clear strategy, with measurable results as an objective.
3. Paid Template and Plugin Builder
Within CMS like WordPress, we have endless plugins and templates that allow you to customize your website to unsuspected limits. In the case that you are a web developer or a computer scientist, you can create plugins or paid templates, or offer a part of them that is free and add an additional one that is paid.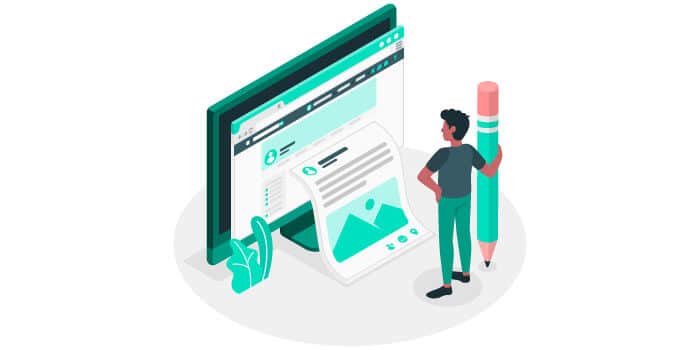 4. Copywriter: the art of seducing with words
If you want to be an excellent copywriter, you must have the ability to create texts that hook your clients. Thus, depending on what you count and what products or services you offer, you must awaken an irrepressible desire to convert within your website.
To do this, you must carry out a very specific training and analyze very well the target audience that will land on your website in order to convince through your texts.
5. Digital writer: content, a booming job opportunity
Every company needs to have a space on the Internet. For this, you need content. Whether they are texts for the website, blog or social media posts, writing for the Internet is a booming job opportunity.
Despite the fact that many professional copywriters are freelancers, more and more are entering the staff of online marketing companies. Therefore, it is a profession that can give you some stability.
6. Online content transcription
Google positions content through texts, so another way to earn money online from the comfort of your home is to become an audio or video transcriber. If you opt for videos, it is recommended that you review successful YouTube channels. So you can learn about the business sector you dedicate yourself to for free and from home. In the case of podcasts, the same thing happens.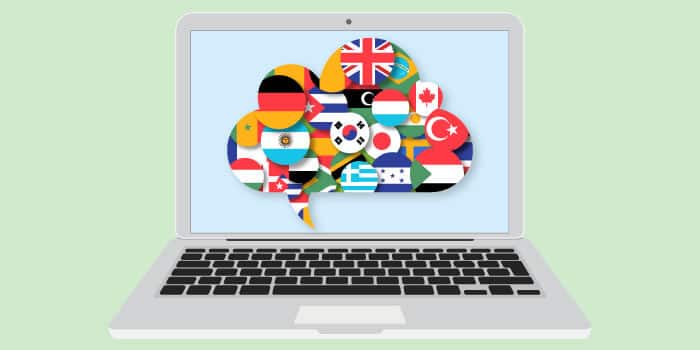 7. Online content translator for web environments
There are many web pages and e-commerce that want to open their borders beyond the national scope. To do this, if you master or have specialized training in languages, you can offer yourself as a web page translator and carry out this task from home.
8. SEO online: one of the jobs with the most future
organic positioning is one of the most demanded online marketing specialties today and one of the Internet jobs with the most future. There is great competition between companies that offer their services or online stores that seek to reach the top positions in Google searches. This is where the figure of SEO makes sense.
9. Link Building or creator of external links
Every company that offers its services over the Internet wants external links to point to its website, which makes it gain authority. Link building is done from other relevant pages that are directly related to your topic.
10. Webinars or online conferences
Many subject matter experts offer free online lectures to their followers or to people interested in the topics it covers. In a strategic way and at the end of the webinar you can inform about a product that you have available to buy from your website and that is outlined as an extension of the content offered in the online conference.

10 jobs from home that you can do online
To start a job from home from home it is possible to adapt professions that have traditionally been carried out outside the home, it is not necessary to specialize in emerging sectors. We tell you some opportunities for you to start with a simple Internet connection.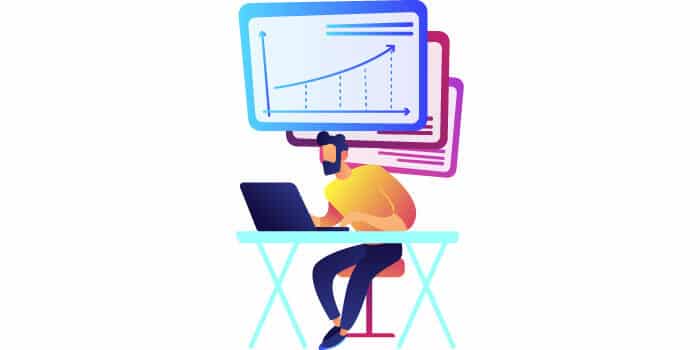 1. Virtual assistant: a key piece in the support
One of the most demanded professions with the rise of the Internet, is that of virtual assistant. You can start as a freelancer, although you may be hired indefinitely if you run into a small entrepreneur.
Its functions lie in providing remote support to bloggers, youtubers, digital professionals or companies that require relatively simple or mechanical tasks. Therefore, it is not a profile that requires great technical skills. This is the perfect job if you are a proactive and organized person, with the ability to combine different tasks at the same time.
2. Translator: go international and reach other markets
In an increasingly globalized context, many companies and entrepreneurs need translators to internationalize and reach other markets. Currently there is a great demand for translators, but most work from home independently, since it is difficult for them to join the staff of a company.
If you are bilingual or know several languages, do well with written expression and enjoy without having too much contact with clients, this is the job for you.
3. Online language teacher
Online teachers are a profile that is increasingly in demand by both companies and individuals. It allows them to save time on student travel, while offering personalized follow-up.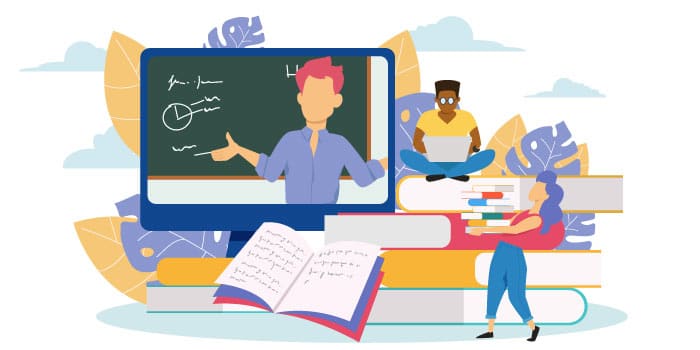 This is a job aimed at native speakers of a majority language such as English or Spanish, with basic computer skills and interest in other cultures.
4. Coach online
If you dedicate yourself to the world of coaching or psychology and want to save the expenses of offices, offices and other associated expenses, you can offer your services online. Even if you already have your physical consultation, you can provide a series of sessions online via Skype or Hangouts.
5. Remote telemarketer: a growing profession
It is one of the professions with the highest demand today. Although traditionally this work has been carried out within a call center, many companies are looking for professionals with communication and computer skills to give support to clients and solve their doubts from home.
They are part-time or full-time positions and generally require four hours a day. It is a job indicated for people with a gift for people and patience.
6. Online seller by dropshipping
It is a way of working in which you can create an online store to serve the products by dropshipping. This is specified in finding a manufacturer of a type of products and opening an online store in which you collect orders for these products.
In this case, the one who sends the orders and takes care of the logistical issues is the manufacturer, not you.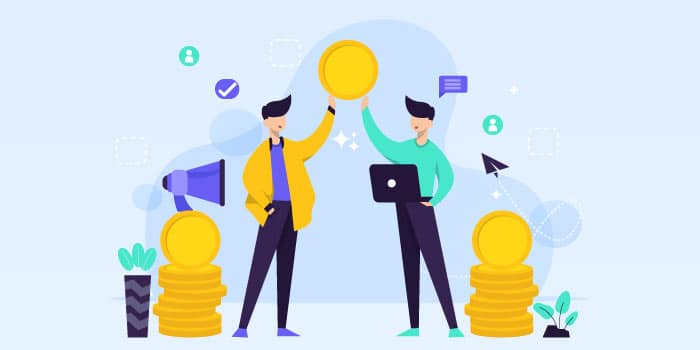 7. Affiliate Marketer: High Earning Potential
Becoming an affiliate marketer involves creating a web page where you can post your evaluation of certain products. These analyzes include links to online stores that sell the product. If a person clicks on it and buys the product, you get a commission from the sale for having referred this customer.
The first step is that you reach an agreement with an ecommerce. Luckily, there are affiliate platforms where you only have to sign up to participate in that agreement.
8. Create a specialized blog
Creating a blog and earning money from it is a great way to freelance from home . The proposal is simple: you create a blog on a specific topic, position yourself as an expert in it and start offering services such as consulting via Skype or your own virtual video course.
The secret of this option is to choose a topic that you are passionate about and where there are more people interested, and publish content on your blog to build your reputation step by step.
9. Youtuber: ideal for people with self-confidence in front of the camera
More and more information is being consumed in video format and, as a consequence, more and more people are making money through their YouTube channel.
You can find two types of channels that can be monetized:
Of entertainment: the youtuber uploads videos of entertainment or about his day to day.
Teaching: in this case, he shares his teachings on a specific topic such as cooking, finance or fitness.
To become a good youtuber, you just have to have something to teach or an innate sense of humor. It is also important to have knowledge of video or image editing.
10. Webcam model from home
Many models may wonder what they need to work in this sector. A shared Internet connection and your computer are not enough, it is essential to have an HD camera, high-tech equipment and be an organized person.

10 manual jobs to do from home
There are many manual jobs that you can provide income. You do not have to move; it is enough if you have skill with your hands. We propose a series of business ideas so that you can start today if manual art is your thing.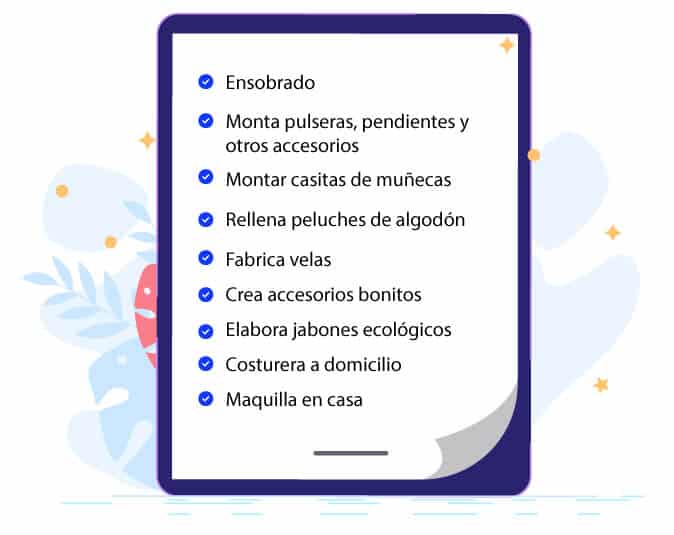 1. Enveloped
This is one of the most popular jobs to do from home . It consists of introducing documents in envelopes and closing them. A simple task for which the payment is usually small. However, it all depends on productivity: the more envelopes you make, the higher your income.
2. Assemble bracelets, earrings and other accessories
It is emerging as one of the most offered remote jobs. The work consists of assembling pieces of costume jewelery. It does not take much time and the salary is not great, but if you organize yourself well you can get a good pinch.
3. Assemble dollhouses
The task, in this case, consists of assembling furniture, houses or accessories for dolls. This manual work requires a little more effort and skill, which is usually better paid than the previous ones. You will need the necessary tools for this, although there are companies that ask you to put your own material.
4. Stuff cotton stuffed animals
One of the work from home most amazing. With some skill, you can stuff, sew and glue stuffed animals in your home. They usually ask that a machine or material be available for it.
5. Specialize in festive decorations
You can start creating decorations for festive moments such as Christmas, Easter or Easter, as well as accessories for birthdays and all kinds of celebrations. Some ideas are to create centerpieces for communions, cardboard baskets with candies and trinkets for birthdays or garlands for company events.
6. Make candles
Currently, artisanal, natural and ecological are in fashion. Take advantage of this trend to create your own candles and sell them. If you do not have the money to open an online store, you can market them through a blog that you use as a store.
You can also offer candles that you have already manufactured and personalized options for your client, with specific scents and colors.
7. Create pretty accessories
Do you have the ability to make bracelets, necklaces, brooches or any type of accessory that you can think of and like? All you have to do is put your imagination to work and develop your skills manually. You can sell your own jewelry on social networks, an online store or going to markets.
8. Make organic soaps
With ecofriendly gaining ground over chemicals, a good way to earn income is to make artisan, chemical-free soaps.
You can make soaps for people with oily or dry skin, for people with psoriasis or dermatitis, and even create soaps for aromatherapy.
9. Seamstress at home
If you are an expert in sewing work, you can start doing everyday tasks like tucking in pants or sewing buttons. Tasks highly demanded by certain clients that you can do directly from home.
10. Makeup at home
Are you a makeup artist or professional makeup artist and want to work from home? To do makeup from home, you simply have to offer your services, train yourself in the different types of skins and specific products and learn how to treat your clients.

10 office jobs without leaving home
There are many jobs and services that do not require the physical presence of the worker in the office and that can be carried out without problem from home. These are serious and formal jobs in which the important thing is always the results. If you have training in any of these sectors, you can consider working from home .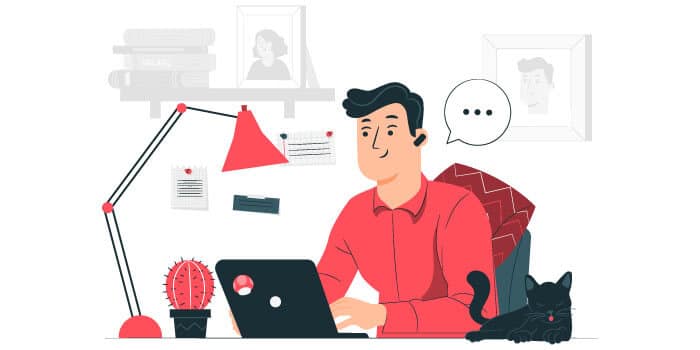 1. Expert in alliances and mergers
Alliances between companies are a way of dealing with the development of new businesses or the introduction into new markets. Here comes the figure of the expert in alliances and mergers, a consultant specialized in these areas whose functions are to analyze market situations and offer travel partners that add value and share risks.
2. Business reengineering
Many companies are in the position of redirecting their businesses to adapt to the changing needs of the market. In this sense, one way to undertake is to establish a consultancy that guides these companies towards the transition.
The services you offer will focus on cost control and optimization, as well as on the feasibility analysis and the innovation and development of new lines of business.
3. Stock management
The changes that are taking place in the market require the management of a growing inventory with a very short sales cycle, which implies costs that companies cannot bear. To solve this, a business opportunity is to offer external stock management and control services.
4. Business centers for freelancers
Many unemployed professionals are opting to capitalize their unemployment benefit to start an activity. However, these professionals need low-cost complementary services to help them run their businesses.
Office positions and shared equipment are a great idea to cover a still under-exploited market sector.
5. Debt management
Default has increased in recent years among companies. An interesting business opportunity for the prevention and management of defaults.
6. Search for financial resources
Today it is common for companies to have liquidity problems and a shortage of financial resources. Businesses related to seeking financing for new projects are a great option to invest.
The key to this business lies in knowing very well the markets in which you want to operate and looking for specialized investors to negotiate with.
7. Labor and bankruptcy lawyers
We are witnessing a time when companies are cutting jobs and facing insolvency proceedings. With this, the demand for Labor lawyers and experts in seizures and dissolutions arises.
8. Food from the field to the home
Food is more expensive from when it leaves the garden until it reaches the stores. Faced with this fact, a business opportunity lies in the creation and development of door-to-door businesses.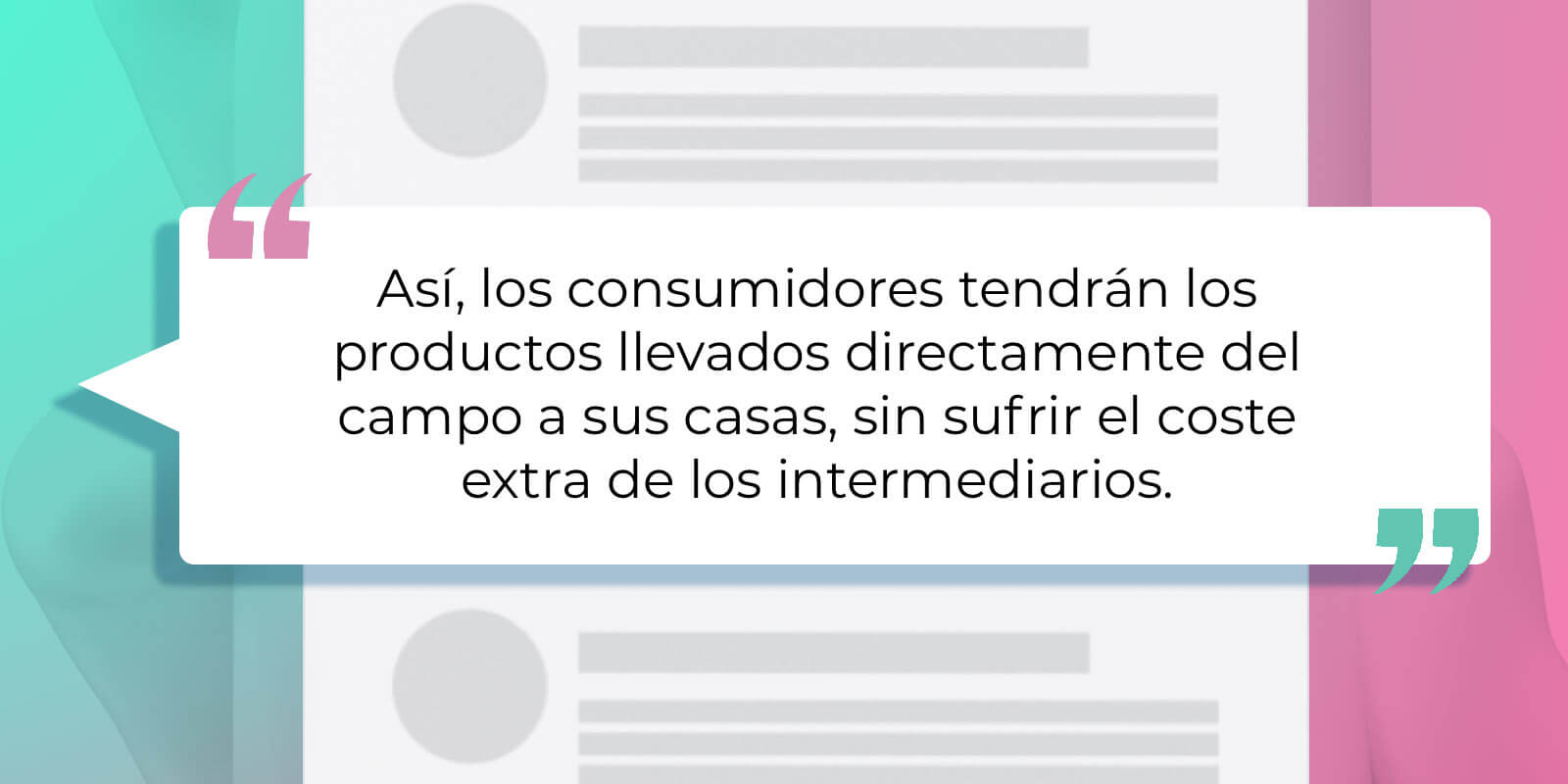 9. Digitator from home
If you are interested in work from home, you have to know that there are companies that carry out data compilations that, later, they want to tabulate. Or they require digitizing documents that are in physical format, because they were made by hand or by machine.
To perform the data entry or digitizer job, you have to be very good at the keyboard. They can pay you for the number of records entered or for thousands of words typed.
10. Commercial
A job that has traditionally been done in the office with door-to-door exits can now be done from home thanks to new technologies. You can reach many more customers in many more places as long as you have good business skills.

Summary: Jobs from Home in 2020
In an increasingly digitized world, in which the virtual has been established in our lives and with the threat of new pandemics, it is a good time to work from home .
Thus, remote jobs are ideal for people who seek freedom above all else or need to stay home due to health problems of their own or of a family member.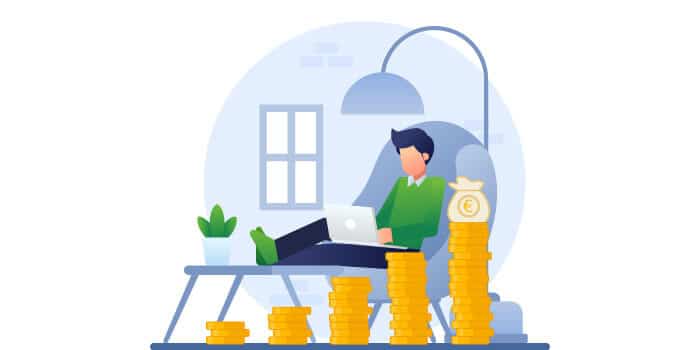 Now or never. It is the moment to fulfill your dream working from home . There are more work-from-home jobs than ever, and in the not too distant future, there will be more. Don't be left behind.
Also, if you want to enjoy a job with an assured income thanks to the sale of Apps, be sure to watch our webinar "Create your own Apps business and generate recurring income". Do not forget to sign up to receive the link directly in your email;)
👉 Access the Webinar and become a Reseller 👈
Hey! Wait, have we finished the article and we have not given you 1778 jobs from home? How is it possible? There are no 1778 jobs here. There are only a few more than 50! It's true. The 1778 work from home have only been a random number, to get your attention and give you the opportunity to discover the best business idea of today. ;)