Custom Mobile App
Save up to 800% on your App by taking advantage of all our pre-developed technology.
Still don't know what kind of App you need?
We advise you without obligation.
Quote

More than 60,000
Apps published
Apps
for SMEs

Hundreds of features already predeveloped.

Apps
hybrids

Pay only for the function as you need it.

100% native Apps

Apps programmed and designed from scratch.
Grow your business with your own mobile App
We also take care of everything else
We not only design and build your custom App, but we also take care of the publishing and distribution process in App Store and Google Play.


But what good is a great App if your customers don't download it? For this reason, and to ensure the success of your project, all our applications include a strategic launch plan and advice on mobile marketing at no cost.

Design

We design every screen, every button and every graphical element of your App to take your business to the next level.

Development

We use the frameworks that best suit the needs of your project.

Publication

We handle the distribution process with Apple and Google and perform the relevant reviews.

Launch

We help you with the launch, marketing and positioning of your App. Your success is our success.
How is our development different from Apps?
Traditional mobile App development has always involved high costs of money and time: design, programming for each platform (Android / iOS), development of a control panel or CMS, analytics system, login or registration, push notifications, infrastructure, etc.
Now with our hybrid (or semi-measure) Apps, you can leverage the technology we've already developed and pay only for the custom features you need.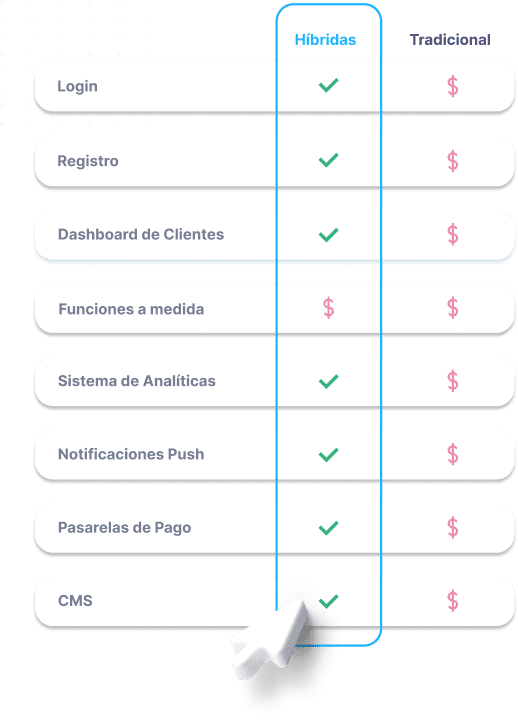 What other advantages do our Apps offer?
Save up to 800% on your budget
Invest in weeks of months of development
Strengthen your online reputation
Improve your relationship with your customers
Communicate more directly
Identify new business opportunities
Mobile application development
App development for Android and iOS
We create interactive experiences designed to attract, build loyalty and generate engagement through the main platforms in the market.
Quote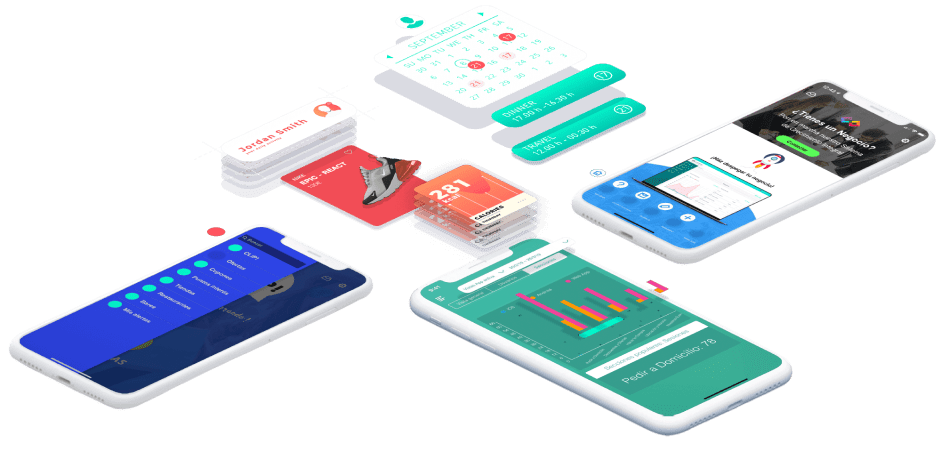 This is our App development methodology
We work with you in every phase of the project, from the definition of the idea to its publication, through the design, development and launch of your application.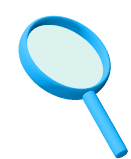 1.
Requirements analysis
Our consultants will contact you to assess which is the best mobile marketing solution for you.

2.
Marketing analysis
We will study from a business perspective which functionalities can bring you the most value.

3.
UI design
Our creatives will design your App ensuring at all times the best user experience.

4.
Development
The construction of the App will be tailored to your needs and you will only pay for what you really need.

5.
Testing
All custom functionality will go through a test environment where we will verify that everything is correct.

6.
Launch
Publishing on the platforms will be up to us. We will work with Apple and Google for the approval and distribution of your App.
Save money in the maintenance costs of your App
The development of custom applications involves, in most cases, infrastructure and maintenance costs that can be up to three times the price of the initial development.
With our hybrid solutions, these costs are drastically reduced.
Quote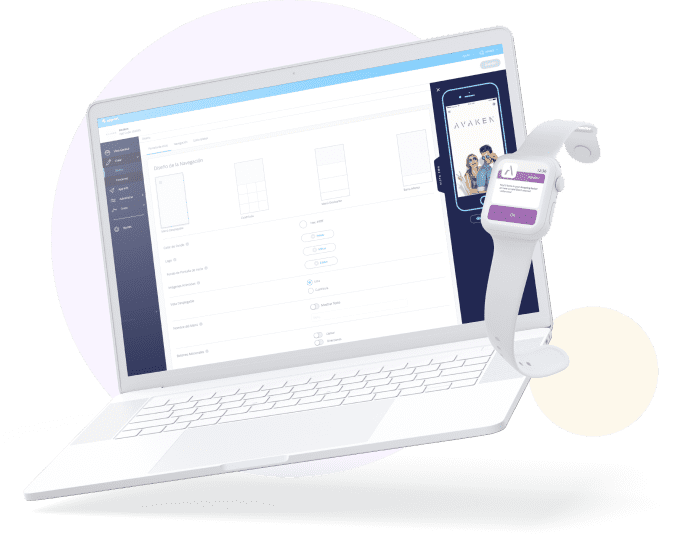 Lower maintenance costs
All the pre-developed part of your application can be updated in real time through our CMS.
Lower infrastructure spending
Most of the cloud hosting required for your application will be taken care of by us.
Push notifications
unlimited
You will have at your disposal unlimited push notifications with geofencing capabilities and segmentation by groups, individuals and interests.
Advanced
analytics system
We have incorporated an advanced analytics system for you to analyze your user traffic, behavior and usage of each feature at no cost.

What can't be measured can't be improved.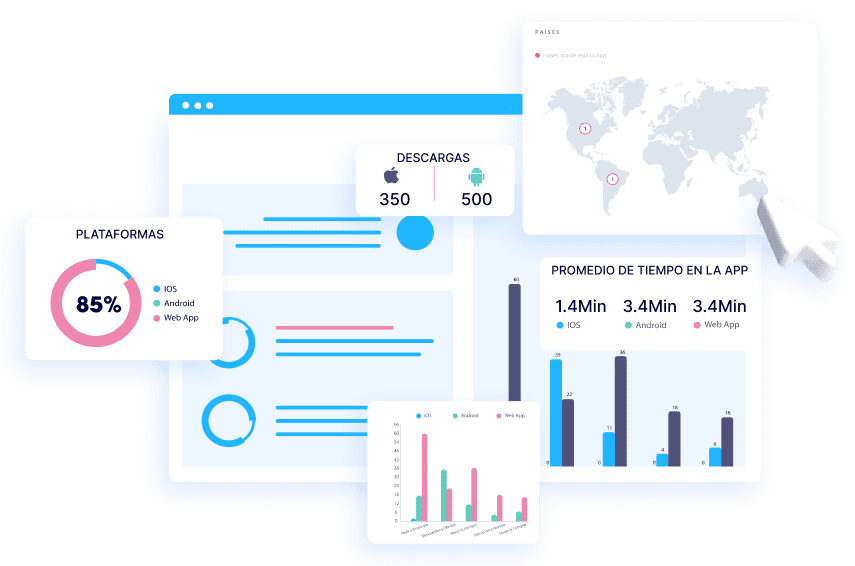 Do you want to know two real cases?
We have designed solutions for companies of all sizes, from small local businesses to large companies such as Banco Santander or Holiday Gym.
Quote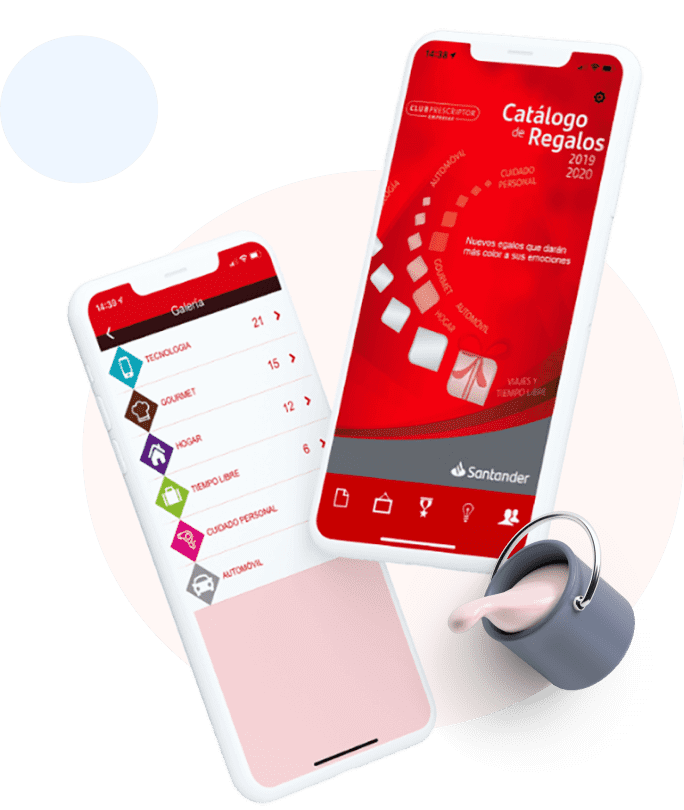 Banco Santander.
Private banking
Banco Santander needed a new App for its private banking clients. The development was completed in just over a month and generated savings of over 800 hours of programming.
Features:
Product catalog for Santander private banking customers.
Communication system with individual and geolocated push notifications.
User groups and interest subscriptions.
Holiday Gym
Holiday Gym is the leading chain of gyms and personal training systems. Through its App you can register, check class schedules or listen to its radio station.
Features:
Information on centers, schedules and classes.
Personalized counseling and coaching services.
Training routines and BMI calculator.
Online store for products.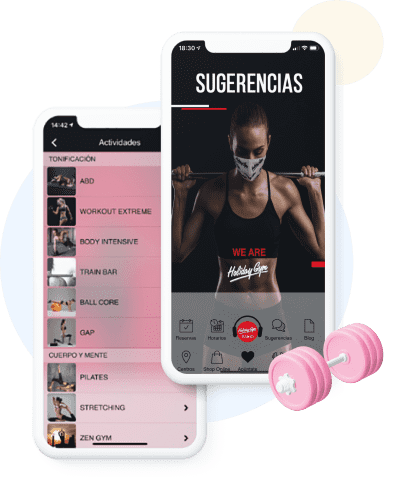 Frequently asked questions
How much can a custom development cost?
The cost of a 100% native custom development usually ranges between $30,000-40,000, but can reach $250,000 in many cases, depending on the complexity of the project. In addition, there are maintenance, server and APIS costs, which can start at $500 per month. However, the cost of a hybrid custom development is considerably lower, $3,000-10,000, since it combines pre-developed technology with custom-developed functionalities.
How long does it take to develop an App?
100% native custom developments require proprietary programming languages for each operating system, so they are developed for iPhone and Android independently. This would span a period of 8 months to 1 year of implementation and would require a team of 4 to 5 people.
What are the advantages of hybrid developments
The advantages of this type of development lie in the cost and execution time. As it is a technology that combines pre-developed features with custom developments, the budget of a hybrid project and its delivery times will be much lower than those of a 100% native development.
Can custom development be financed?
No, it is not possible to finance, but we have the option of payment in installments, that is, the customer will pay an amount before the start of the project and the rest, 20 days after the execution of the project, at a very advanced point of the project.
Still have questions?
Let's talk
If you have any questions about our services or products, then you can access the demo of the platform or contact our sales team.