The Internet has been changing the way consumers interact with brands for years.
Ecommerce has been growing at double-digit rates for almost a decade, and the current pandemic has only acted as a brutal catalyst for that trend.
Selling online has become a necessity for all types of small and medium-sized businesses, regardless of your industry.
However, the global growth of ecommerce, at an annual rate of 20% and with total business figures of more than 4.28 trillion dollars annually, contrasts with its dramatic failure rate … 96% of the companies that launch an ecommerce, they do not survive the first 3 years of life.
The constant increase in the price of Ads campaigns, conversion rates in free fall due to increased competition and the inability of online stores to retain an audience saturated by the price struggle make it nearly impossible for the numbers to add up for the vast majority of small businesses.
But, fortunately, there is now a way to reduce the costs of attracting traffic, improve on-page conversions, maximize the average ticket and generate new organic sales for each loyal customer.
We have called this new methodology Mobile Marketing Flywheel.
What is Mobile Marketing Flywheel?
Summarizing it at its most basic level, we could define it as an omnichannel cyclical funnel methodology.
But the most important thing is not its definition but its scope. The Mobile Marketing Flywheel can be applied in companies of all sizes and online stores of any vertical, improving results in less than 24 hours.
In this article we are going to analyze step by step how to apply it correctly. But, if you prefer, you can also download our PDF strategic guide to scale an ecommerce.
In the guide we cover the following points:
How to launch and scale an ecommerce to more than 8 annual figures without external investment
What is Mobile Marketing Flywheel and how to configure it without the help of web designers or programmers
How to reduce the cost of Ads campaigns
How to increase the average ticket of an ecommerce
How to maximize conversions
How to retain customers and make the store viral in an organic way
And much more…
You can download the guide below:
What elements does mobile marketing consist of?
We have defined Mobile Marketing Flywheel as an omnichannel cyclical funnel so, in its most basic configuration, we simply need an ecommerce, a sales funnel and a mobile application.
Today any business can create these elements easily and quickly without investing in developers or undercapitalizing their balance sheets.
If you want to see how easy it is to create Apps, funnels and online stores without programming, you can access a interactive demo by clicking this link.
Combining ecommerce, funnels and Apps through an omnichannel cyclical funnel allows us to reduce advertising costs by 50%, improve conversion rates by up to 400% and < strong> increase loyalty and organic growth of our online store by 60%.
Let's see how to do it.
The Flywheel as a natural evolution of traditional funnels
Traditional funnels or funnels are an analogy that has been used by marketing experts for many years to represent the different phases through which a 'Lead' or contact progresses until they become a customer.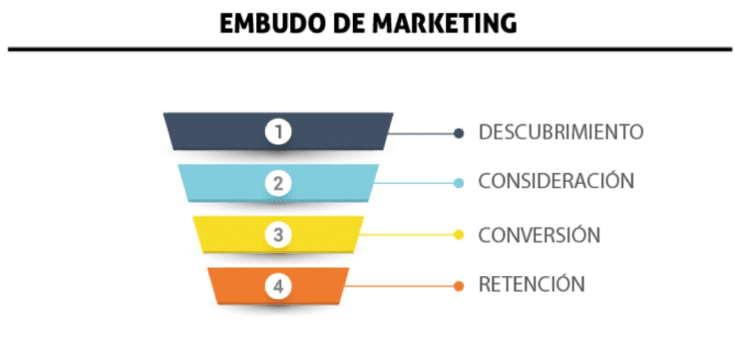 Discovery Phase
In this first stage, the 'Lead' becomes aware of your brand or your products. It is the widest part of the funnel that progressively narrows as the leads progress through the different phases. Only a small percentage of all leads that enter the funnel become customers.
The marketing teams tend to devote the greatest efforts to this phase, understanding that the greater the number of leads that enter the funnel, the greater the number of final sales will also be.
Content marketing, social media, organic search and paid ads are different strategies that brands nurture this first part of the funnel.
Consideration Phase
According to traditional funnels, when the potential customer or 'lead' leaves the discovery phase, it enters a consideration phase during which a relationship with the brand is established.
If you have managed to attract the attention of the potential customer, they will want to know more about your products or services and how they can benefit them. In return, you can collect more information about those contacts and offer them specific content that explains the benefits that your products can bring them.
It is estimated that 75% of the purchase decision occurs in this phase, so it is essential to accompany leads during this phase with videos, infographics, guides or articles that adequately show the potential of your products or services.
By the time your audience reaches the bottom of the funnel, you've been left with a small percentage of potential customers who are the ones who finally consider making a purchase. This is known as the Conversion phase.
Conversion Phase
In this phase, the potential client is taken to decision making. In this phase it should be very clear why you are the best option. Why they should buy from you and not from others and why they should buy from you now and not leave it for the future.
All these questions are the ones that are tried to be answered during the Conversion phase, eliminating as many obstacles as possible and optimizing the sales process to make it as simple as possible for the customer.
The marketing funnel analogy has served brands and marketing departments for many years to optimize the 'Customer Journey' and the customer shopping experience.
In addition, a phased structure made it possible to specifically solve conversion problems.
For example, if it was detected that the majority of potential customers were lost in the Consideration phase, specific product webinars or better explanatory materials could be generated and in this way, each phase could be optimized little by little.
The main problem with this type of funnel is that they understand customers as 'outputs' , that is, the conversion to customer is the final result of the process and does not establish any A concrete mechanism so that the clients themselves nurture the first phases of the new contact funnel.
For this reason, companies like Hubspot began proposing wheel-shaped funnels that better reflected the role of customers as brand ambassadors.
Loyalty as a cornerstone of marketing funnels.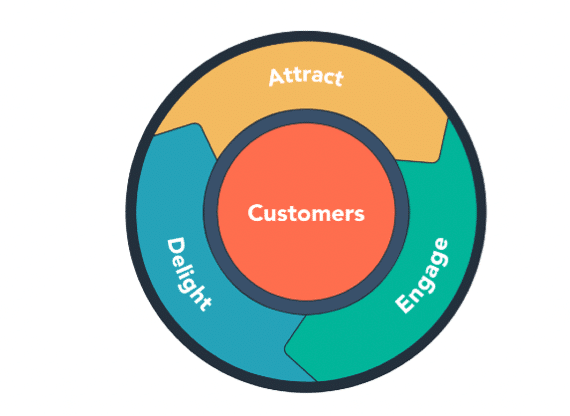 The 'Flywheel' or circular funnels better reflect the reality of the current market. A market in which subscriptions, loyalty and recurring purchases dominate the environment.
A market with such high competition that customer acquisition costs do not stop growing and therefore the profitability of loyalty to a customer instead of attracting a new one is increasing.
The new analogy in the shape of a wheel better represented this new reality and was more efficient in promoting word of mouth among customers, who were responsible for providing feedback to the funnel.
However, the proposals presented so far for circular funnels lacked a key component today and that represents the greatest disruption in recent history in consumer buying habits … omnichannel.
Advantages of Mobile Marketing Flywheel
Covid-19 has not only shaken the foundations of traditional commerce, forcing brands to digitize and embrace online sales as a way of survival, but it has also transformed the way brands and distributors related to each other in the online environment.
These relationships have evolved by improving data, measurement and distribution systems to the end customer, but for the first time in history, small and medium-sized companies are forced to convert in 'early adopters' of all this new technology.
And that's one of the key benefits of the Mobile Flywheel .
While traditional funnels have never aspired to be anything more than simple analogies used by marketing teams in large companies, SMBs need more than just an analogy.
Small and medium-sized companies require a specific methodology that can be applied in companies without marketing specialists and that, at the same time, is flexible enough to be adapted to any vertical.
The Mobile Marketing Flywheel methodology includes the main trends in the current market to offer a specific solution for all types of small and medium-sized companies.
The combination of Ecommerce with Sales Funnels and Mobile Applications allows any SME, regardless of their size, to offer their customers a shopping experience at the level of large companies.
Each element of the Mobile Flywheel affects a key metric of the ecommerce sales process:
Funnels landing pages reduce the cost of Ads campaigns by personalizing the post-click experience of users and achieving a increase in conversions of up to 400% .
upselling, downselling and one-click checkout allow you to maximize sales and increase the average purchase ticket for ecommerce.
Finally, the Funnel connects with the business App, leading customers to an omnichannel experience in which their loyalty is much easier thanks to functions such as individual push messages, geofencing or mobile loyalty systems .
Once the business App is downloaded by a percentage of your customers, the automatic generation of positive reviews function will be in charge of attracting new customers, improving the SEO of the business and increasing turnover by up to 9 % for each star achieved in the main rating portals.
Let's see step by step how to automate all this process correctly.
Lead acquisition phase: Reduce the costs of your Ads campaigns
The average conversion rates in Google Ads are 4.4% on the search network and 0.57% on the display network. That means 95.6% of paid traffic on the search network and 99.43% of generated traffic on the display network does not convert. And here the targeting of the ads is only part of the problem since the conversion happens on the landing page.
According to studies analyzed by Disruptive Advertising , 60% of paid traffic is wasted. That leaves us a huge margin for improvement.
Most advertisers send poorly targeted traffic to generic web pages. That is, very broad audiences or irrelevant to non-personalized landing pages. The result? 0.57% conversions.
The more personalized a campaign is, the more relevant it is to the audience and the higher its conversion rates. And doubling your conversion rate means cutting your advertising costs in half. Let's look at an example.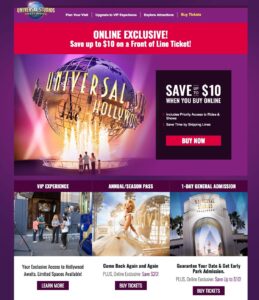 Universal studios could send their paid traffic to their main website, but then most of the traffic would be lost.
Instead, they send highly targeted campaigns to a conversion-optimized landing page:
The entire landing is optimized to generate conversions with a very clear CTA … buy a ticket with a discount of $ 10.
The landing page is disconnected from its main website and does not have a navigation menu full of outgoing links.
The text of the page is persuasive and is oriented to the benefit that users can obtain, the discount and the convenience of buying tickets online and avoiding waiting lines.
Different buttons and CTAs oriented to the same action, the purchase of the ticket.
The landing could be optimized much more by including social proof and scarcity generation elements, but even so, the campaign works much better than it would send traffic to a generic brand website.
Now let's see the numbers behind a campaign like this:
In the travel and entertainment industry, the average cost per click on the search network is $ 1.42. Therefore, generating 100,000 clicks represents an investment of $ 142,000. However, the average conversion ratio is only 3.95%. Therefore, of the 100,000 clicks generated, only 3,950 conversions will be achieved.
On the display network the situation is not much different. The average CPC is at $ 0.53 so 100,000 clicks would cost the company $ 53,000 and with a conversion of 0.39% only 390 would end up making the purchase.
The conversion rate of a custom landing page can reach up to more than 30% in paid conversions and up to 60% in free or lead magnet conversions.
On average, the conversion of an optimized and well-segmented landing like this stands at 16.2%, giving rise to very different results:
In the search network , with a conversion rate of 16.2% you can generate 4,050 conversions with just 25,000 clicks, assuming a savings of $ 106,500 .
On the display network : with a conversion rate of 16.2% you can generate 486 conversions with just 3,000 clicks or visits to your landing page, which represents a saving of $ 51,410 .
Customer conversion phase: Maximize your sales and raise your average ticket
Most people when they talk about Funnels, what they have in mind is the analogy we saw earlier with its phases of discovery, consideration and conversion (or with the acronym of the AIDA method: Attraction, Interest, Desire and Action).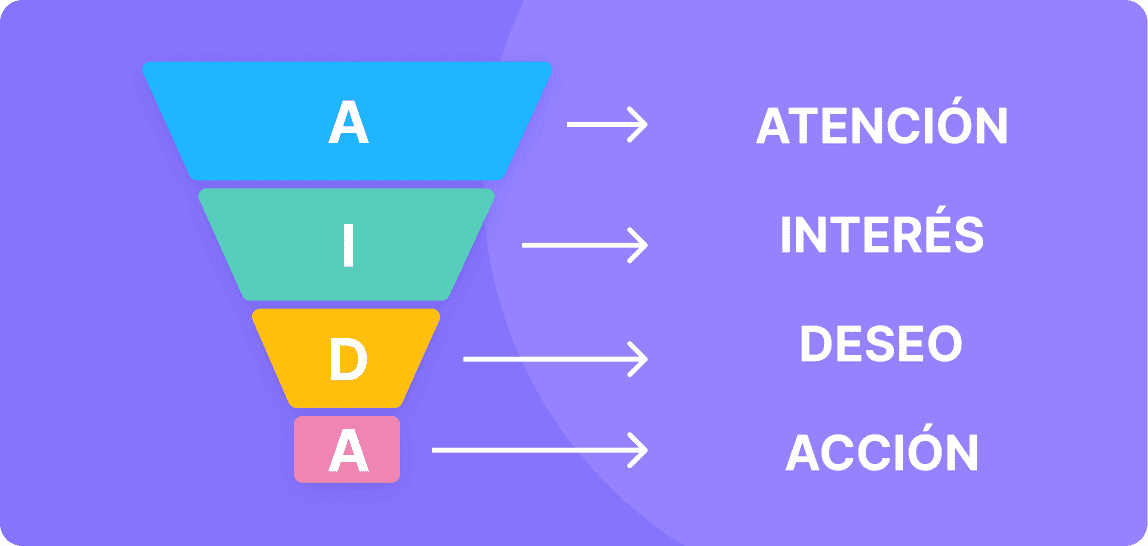 But that is a Marketing funnel, an abstract and high-level analogy that symbolizes the evolution of your leads towards customer conversion, but that is not a Sales Funnel.
A Sales Funnel is something much more concrete. It is a series of sequential landing pages strategically structured in such a way that they convert visits into leads and leads into customers, step by step, and may also contain upselling, downselling and crosselling phases to maximize sales and increase the average ticket of any business.

In the previous section we saw the difference in performance between a traditional website full of outbound links and multiple navigation options (and therefore multiple escape options without converting to leads) and a landing page optimized for conversion.
Well, that performance difference is triggered if the landing page is also part of a Sales Funnel.
Everyone knows that McDonnalds does not make money by offering a hamburger for € 1.
However, most customers when they arrive at the restaurant end up spending much more.
When you order the burger, they ask if you want to add fries, a drink, and a dessert. And if you agree to buy any of those accessories … they offer you the possibility of changing your potatoes and your drink to a giant size.
In 'marketing' terminology, McDonnalds does not make money from its Frontend offer (initial offer) but from the subsequent upselling or Backend offer.


Veámoslo con un ejemplo propio.
Our training school, Appcademy, has an Introduction course for entrepreneurs who are considering starting an Apps business through our White Label .
Well, we've been offering that introductory course at a price of just € 9 and sending paid traffic from Facebook Ads.
The numbers to start with … they would never add up if we opted to send traffic to our main website, since conversions would be much lower by having multiple navigation options. But let's see what happens when using a Sales Funnel.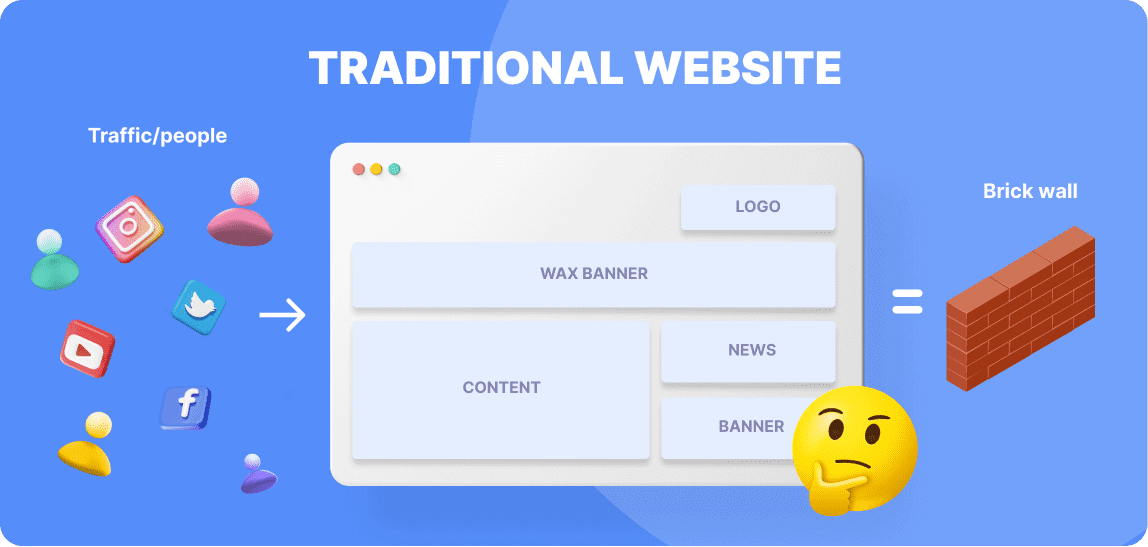 The average price we pay for each visit we send to the page is € 0.25 and our conversion to sale ratio is 2.69%. That means that generating each sale of the Introduction course costs us € 9.34.
Do we lose money? Not.
What happens is that in the checkout page we have included the option to add a Workbook to the order that complements the training of the introductory course and that has a price of € 9.99 (this is known as a Bump offer)
31% of buyers add this supplement when purchasing the course.
That brings our average ticket to € 13.84.
Then, everyone who has purchased the course is redirected to a upselling page in which they are made a limited offer of our advanced Master in creating and selling Apps. This program has incredibly broad content for a price of just € 297.
3% of users acquire the Master with this offer.
The rest are redirected to a page with a downselling . There are many people who cannot afford a € 297 training program but are still interested in expanding their training.
For them we have a special pack for the sale of Apps, which although it does not contain the extensive training of the Master, at least offers certain resources to start for only € 29.
8% of users opt for this downselling.
Like McDonalds, we do not make money with our Frontend offer (the introductory course for € 9) but this phase of the funnel allows us to recoup the advertising investment and scale the funnel as much as we want .
There are many different types of Funnels: Lead Generation Funnels, Abandoned Cart Funnels, Course Launch Funnels, etc., but they all serve the same purpose … to maximize sales and raise the average ticket.
upselling, downselling and one-click checkout when combined with personalized and conversion-oriented landing pages can drastically change the results of any business but where the magic really happens is the next phase of the Mobile Flywheel .
Promoter generation phase: Build loyalty to your audience and boost organic recruitment
So far we have seen strategies that, even though they are really effective, are nothing new.
Sales funnels and one-click checkout have been around for years and are used by many companies with more than remarkable success.
However, what makes the Mobile Flywheel radically different from any other system is the organic generation of new sales from omnichannel.
Well, we have already improved our conversion by customizing the landing pages. We have maximized sales with Funnels and Backend offers … what now?
Is there a way to ensure that the customers we have already generated are the ones that feed the funnel of new organic visits (not from paid campaigns)?
Yes. With your own Mobile App .
We know that omnichannel is one of the main challenges facing businesses today.
We also know that the average user spends more than 3 hours a day connected to their smartphone.
As has been shown in multiple studies such as that of the IAB users prefer Apps to mobile webs, in fact, 7 times more time is spent on native Apps than on the web browser .
And if all this were not enough, it is proven that for each star obtained in the main valuation portals (such as Yelp or Tripadvisor) increases business turnover by up to 9% .
The efficiency of Mobile Applications when it comes to customer loyalty is beyond any doubt and that is the reason why all large companies have their own App.
From Amazon to Zara through McDonalds, Starbucks, Ikea, Burger King … all.
The problem was that the high cost of developing this technology was only available to large corporations. Not anymore .
Scoreapps was created with the mission of democratizing mobile marketing and helping SMEs grow in a mobile first world.
With our system you can create a more advanced App than Burger King in less than 1 hour. No development teams. Without having to invest tens or hundreds of thousands of euros and accessing the same technology that large companies have:
Geolocated Push Messages
Loyalty Systems
Reservation Functions
Events
Delivery
Etc
But above all, we have a function that combined with Funnels can completely change the prospects of a business … Automated Generation of Positive Reviews .
To make it more actionable, let's look at it again with an example.
EG jewelry has a Sales Funnel connected to its ecommerce.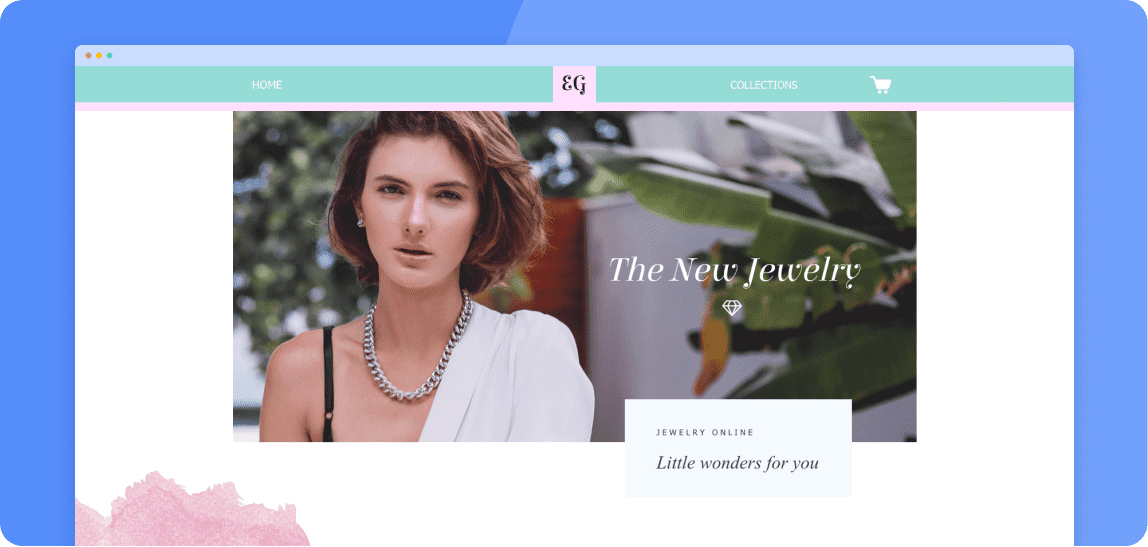 When users come to your website and select a product they find an optional Bump plugin on the checkout page .
That increases your average ticket amortizing the costs of your advertising campaigns.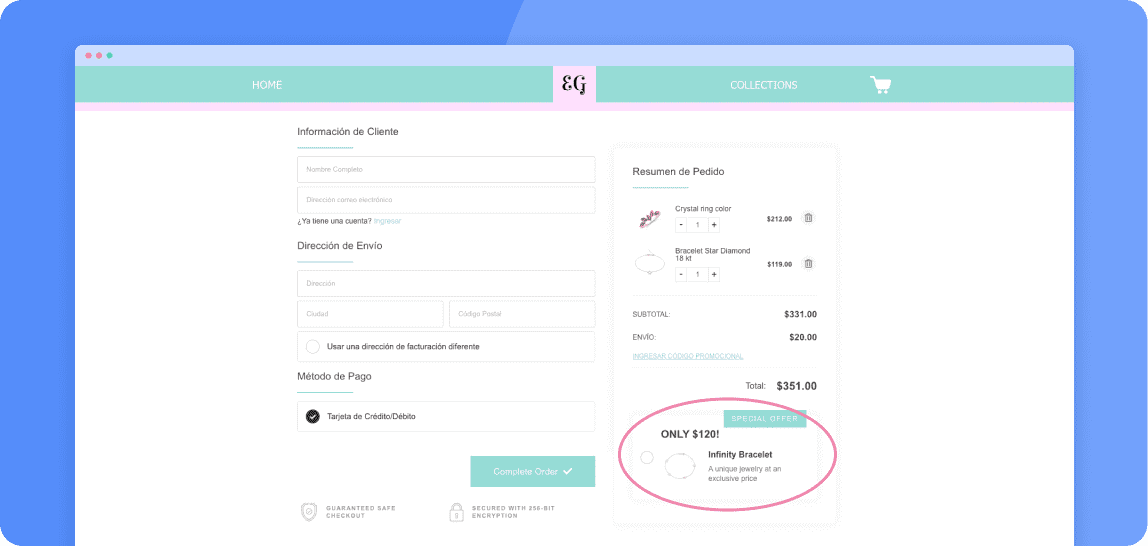 Customers are then directed to an upselling page with a superior offer.
Again, only a small percentage of all buyers acquire the upsell but it is enough for EG not only to amortize 100% of the Ads campaign with its Frontend offer but also generate profits with its Backend offer .
And your Mobile Flywheel is just getting started.
Then 100% of the users are redirected to a last step of the Funnel in which EG promotes its Mobile App .
Users are offered a download incentive letting them know that just for having the App they will receive a 10% discount on their next purchase.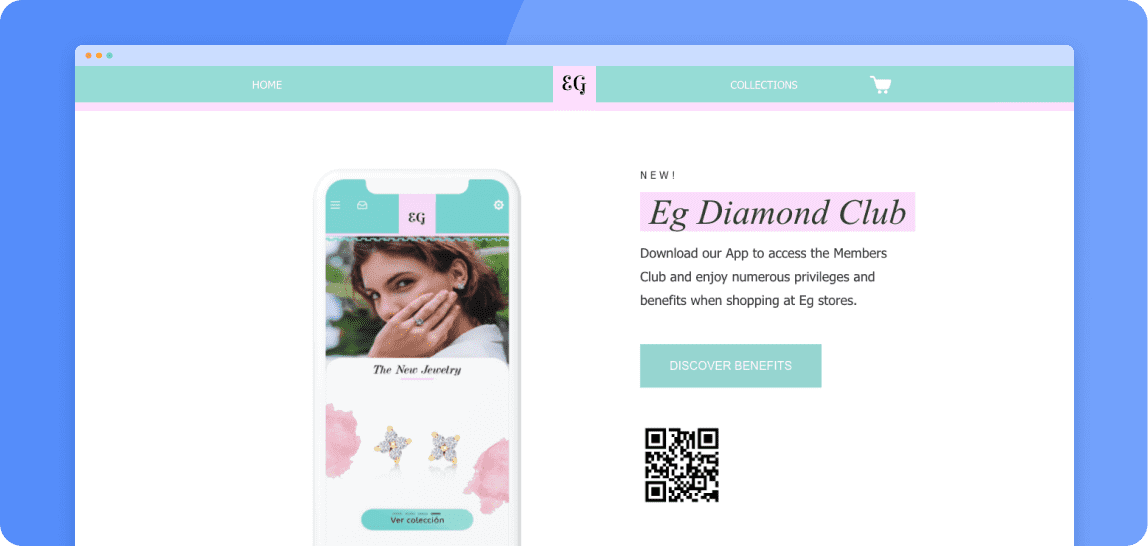 Once the App is downloaded, EG can segment and nurture its customers in multiple ways:
EG can send Push Messages with images of new jewelry and promotional offers.
EG can make users receive a notification with an aggressive discount when they pass within 100m of their competitor's premises .
Users can access a chat wall, image and video galleries of the company and even benefit from mobile loyalty systems .
But the most interesting thing for EG is what happens in a transparent way for the user.
The Review Generation System is in charge of asking the user about their experience and requesting a brand review.
Only positive reviews are published on rating portals.
The system filters neutral and negative reviews by sending them via email to the business owner so that he can solve the problem that has generated this bad user experience.
The increase in positive reviews improves the SEO positioning of the business website and leads new users to the EG website, nurturing the Funnel without the need to invest in new advertising campaigns.
In this way, the Mobile App impacts several key areas of the business:
Attracting new customers.
Loyalty of current customers.
Improvement of the SEO positioning of the business.
Increase in followers in the different social networks integrated into the App.
Cost reduction thanks to the automation of orders, reservations, etc.
Improvement of your customers' shopping experience.
Omnichannel control of the users' buyer journey.
Conclusions and immediate practical effects
Increased competition, low conversion rates, the increasing cost of Ads campaigns and the difficulty of loyalty to an audience with more and more options are factors that have been driving many small companies that were approaching the market for years. selling online in hopes of growing their business.
To be exact … 96% of small businesses did not exceed the first 3 years of life.
All of that is about to change.
As we have seen, the Mobile Marketing Flywheel methodology can reduce your advertising costs, boost your conversion rates, maximize your sales and retain your audience even better than large companies do, giving your business a new competitive advantage.
And the best of all is that you do not need to be a designer or an expert in programming Mobile Applications or Web Pages.
If you want to see in an interactive demo how the Mobile Marketing Flywheel works you can access by clicking here.
At Scoreapps we have been working for a long time to develop the technology that makes all of this possible and we can't wait to see the impact of Mobile Marketing Flywheel on your business.