Going to the bank has long ceased to be a necessity for the customer. Procedures and services that were previously done in offices, are now done through digital banking.
Online access has multiplied by 4 in the last 3 years. And access through mobile applications is already part of our most daily gestures.
Santander Banck currently has 5.2 million digital customers and reaches the 69% digitization. Figures that show that digital transformation has been at the core of its strategy for four years.
In this sense, it recently decided to bet on the development of the mobile phone as the main digital instrument also in its relationships with the private banking client, with a double objective:
Respond to the needs of a more demanding client in terms of services and digital experience
To deal with big tech firms, phone-only neobanks, and fintechs
Interesting features to satisfy any type of interest
When Banco Santander decided to rely on Scoreapps technology, it was because it needed to develop, in a short time and with contained costs, a mobile platform that would support:
An exclusive catalog of products for your private banking clients
A powerful and secure communication system with them through push and geolocated messages, two of the many different functionalities of our mobile app tool
An effective customer segmentation system by groups and subscriptions according to their interests
A demanding project in terms of safety, quality, development and delivery times . And that it could be completed in less than 30 days and with a saving of more than 800 hours of programming thanks to the ease of creation without the need for programming any of our technology, and the range of functionalities that our app builder has and its simple implementation .
After consulting to analyze processes and systems, we were able to contribute all the expertise and know-how accumulated in our more than 7 years in the business of creating and developing mobile applications .
Thus, the foundations were established to define, design and develop an intuitive interface in which the user experience prevails, within an agile and secure environment. A digitized service that facilitates more agile access and improves interactions with Santander Private Banking , making them fast, simple and productive for the customer.
Thanks to Apps , our mobile application builder, Banco Santander was able to have a quality technological solution , offer a service of high added value and reducing costs associated with its development.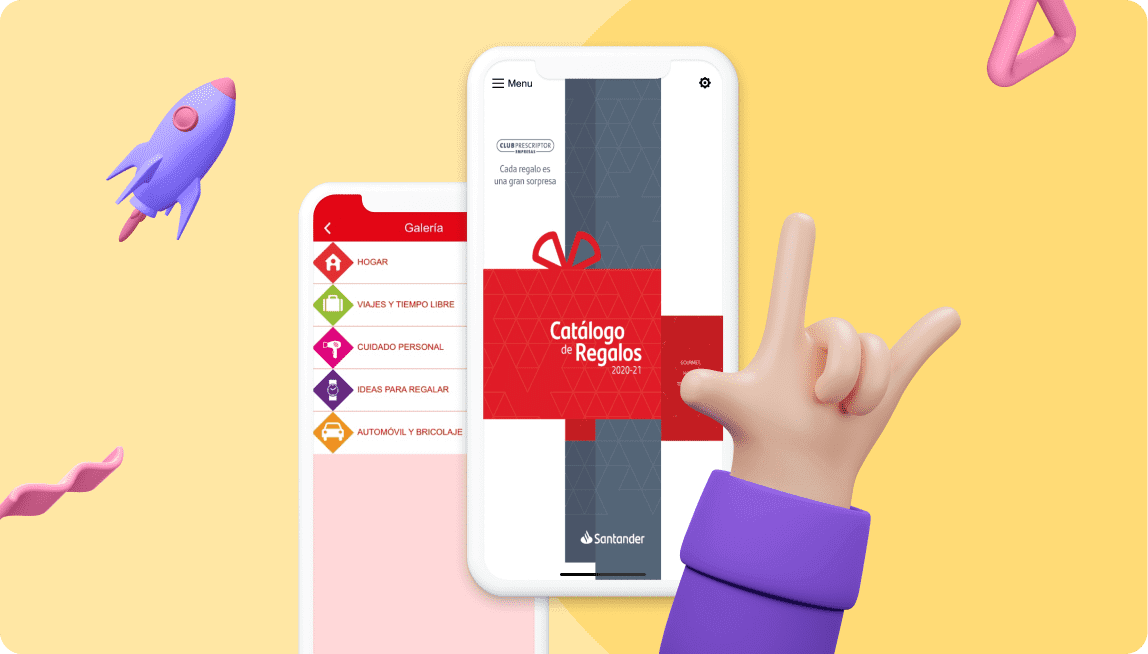 Invest in an app for your business like the greats do with Scoreapps
But you don't have to be a big bank to be able to invest in a mobile application for your business like the big ones. Nor to follow the most advanced online marketing strategies such as the Mobile Marketing Flywheel.
Nor are their financial resources necessary.
Not their availability of time.
Surely as a user of your bank's mobile application you know and enjoy its many advantages. Well, just like you carry your bank in your pocket, why not make your clients run your business by creating their own app for it?
In case you do not know them yet, I remind you of the main benefits that a mobile application brings you, whether you are a small or medium-sized company, a professional or a local business:
Increase the visibility of your business on the internet . You increase the adoption of your brand and differentiate yourself from the competition.
You can communicate directly with your client at any time and place.
You improve their experience with your brand because they always have you at hand. You are friendlier and closer.
You get him to buy more and more times through loyalty programs and virtual discount coupons.
You facilitate the generation of reviews and evaluations of your business, you build, control and improve your online reputation .
Reduce internal costs .
In short, you don't have to be a large financial institution or target a user profile with a high net worth to be able and have to offer a customer experience that is not only more satisfactory, but also solves very specific needs.
With a limited investment in time and financial resources, Santander Private Banking managed to make its brand more useful, more personal, more human and much more modern.
Just as you can achieve it with yours, your products or services. Shall we talk about it?