In this guide we are going to analyze all the factors that influence when it comes to knowing the cost of a mobile application, the investment according to its technology or the functions it includes, as well as how much it costs to make an app by sectors or countries.
Know the hidden costs, the options you have when creating an app and the technology you can count on to reduce costs. We also tell you absolutely everything you have to take into account in order to calculate the price of an App .
At the end of this guide you will also find a section of frequently asked questions with the most common doubts of our users regarding the price of creating an application with Scoreapps.
We started!
Find out how much it costs to build an application
👉 Get FREE the Complete Guide on how to MAKE AN APP 👈 
In this guide you will find:
All the steps you must take into account for the development of an App
The costs involved in order to budget your project correctly
How you can promote it to increase its downloads

Introduction
The price of creating an App is something that worries the vast majority of companies, especially SMEs and small entrepreneurs. Having a personalized mobile application is one of the best tools with which any business can grow and increase its sales exponentially. However, the truth is that very few companies can afford such a high expense as developing a fully customized mobile application .
According to the Kinvey report, companies around the world spend an average of $ 270,000 on building custom apps. A process that usually lasts a full year, from the moment the project is approved until the application sees the light and starts working.


As you can imagine, these types of budgets are only available to a few. Making the vast majority of businesses reject the idea of creating an application for their company. Since in addition, the specific needs of each project can be so complex that they make the budget go up until the app never sees the light of day due to lack of resources.
However, luckily, custom-developed applications are not the only alternative when a business wants to create its own app.
Today it is possible to create much cheaper applications thanks to pre-developed technology such as Scoreapps, as well as to build hybrid apps that combine the best of both technologies.
We are going to see how it is possible to achieve the same result with a custom App creation project that can cost up to € 200,000 and last for one year, than with a state-of-the-art pre-developed technology builder that can involve a 800% savings in development costs .
It may seem like a lie but it is real. Today it is possible to create fully customized applications suitable for all types of budgets. But before seeing how to do it, we are going to analyze how to calculate the price of creating an app in a traditional way to understand what are the expenses that are taken into account to calculate the total cost.

How to calculate how much it costs to development an App?
Tachan! The million dollar question.
When we try to find out the exact price that an application can have, we find that there is no magic formula that helps us to know the real cost of an app . The price can vary widely depending on your specific characteristics, the requirements you need or the sector in question.
Companies spend between € 20,000 and € 200,000 creating their own custom apps. We can think that the cheapest are simpler applications, while the expensive ones are always more complex apps. But it's not always like this.
To begin to understand how a company puts a price on the creation of an app we can use the following formula:
App cost = Work time x Cost per hour
That is, of course, development companies calculate the total cost by multiplying the hours they are going to invest in completing all the functions included in the app by the price they charge per hour.
For example, to create an application with 5 main characteristics, the development company must calculate how long it takes to complete each of the functions.
Let's imagine the following:
▶️ Function 1: 50 hours
▶️ Function 2: 40 hours
▶️ Function 3: 70 hours
▶️ Function 4: 100 hours
▶️ Function 5: 80 hours
The number of hours is estimated based on other similar jobs previously performed. In this case we will get a total of 340 hours to complete all the functions of the App. And here comes the time to know how much is charged per hour.
It is very common in this type of company in Europe that prices are around € 120 / hour, so this custom mobile application project could cost us about € 40,800. It may seem expensive or cheap, but this is how most development companies calculate the real price of creating a custom app.
Obviously the cost of the fees of each company depends on the competition, experience in the sector, specialization or the quality of the results. Not all app developers are the same or cost the same.
Broadly speaking, we can say the price per hour is also influenced by the following factors:
📍 The location of the company. The average price of an app development company for an hour of work in the United States or Australia is around $ 150. While in Europe it is around € 120. It is possible to find places with much cheaper developers, such as India or Ukraine, although it is very likely that the price drop will also be reflected in the quality of development.
📲 The platform on which the App will be published. It is possible to do it on iOS, Android or both. The price in each case is usually different, also keep in mind that there are specialized development companies in each platform.
📱 The number of functions of the App and their complexity. If we want to include private access for users, integrate a payment gateway, a chat or the possibility of changing the language, all this has a direct impact on the budget of the application.
🎨 The design of the application. A basic app does not have the same job as one with a functional design or adapted to the UX. Both the interface design and the user experience are decisive for the success of any application, but we must bear in mind that a good combination of both will affect the final price.
There are many aspects that can increase the price of a developer's working time, although we must also consider that it is possible to need the participation of other professionals. As a programmer specialized in a particular platform or in certain functions, a particular designer or a team of testers. To the above cost we will also have to add the fees of the rest of the team that participates in the creation of the custom app .
But let's take a deep look at those aspects that are essential when calculating the price of a mobile application in addition to the price per hour of the application developer.

Factors that affect the cost of application development
Once we have seen that to calculate the price of an app we must consider the price per hour according to the functionalities that we want the app to have, we are going to analyze the main factors that come into play during the development of a mobile App. In addition to seeing the direct impact they have on the price that the App in question can reach.
In order to analyze them, we are going to divide these factors into the 4 most important ones:
1️⃣ Operating system
2️⃣ Design
3️⃣ Developing
4️⃣ Hidden expenses
Let's take a closer look at each of the elements.
Operating system
The first factor that will influence the price of your App will be the operating system you choose to publish it.
When we talk about publishing a mobile application, we mean uploading it to one of the existing markets so that users can start downloading and using it. These app markets are:
You can publish your native mobile application for two types of devices fundamentally: iOS and Android. You can create your app for use in one, the other, or both. Although depending on the platform you choose, the price of the development will vary.
When choosing the operating system, you must always bear in mind that native custom apps developments require that the applications be built independently for each platform. That is, you cannot use the same app to upload it to each market. Rather, we must duplicate the application and adapt it to each technology. Therefore, in most cases it is necessary to have specialized professional profiles and therefore multiply the investment by two.
It is important to be clear in advance where you want to publish your app, since the cost of development per hour is what most influences the final price of any mobile application.
If the budget allows it, the ideal is to publish the application on both platforms. In this way you can reach all kinds of profiles, the more than 1,400 million iOS users and the 2,500 million Android users. Although we know that sometimes this can be complicated or almost impossible.
However, there is a solution for 99% of companies in Spain that, being SMEs, cannot afford such a large investment.
Pre-developed technology is an alternative that allows you to create apps for all types of businesses in a much cheaper way. The only drawback that we can find when making an application using this option is that we must verify that the CMS for creating Apps supports both Android and iOS technology. Since otherwise the iOS version will not be the same as Android. To avoid this, it is best to use a second generation CMS such as Scoreapps compatible with both technologies.
Design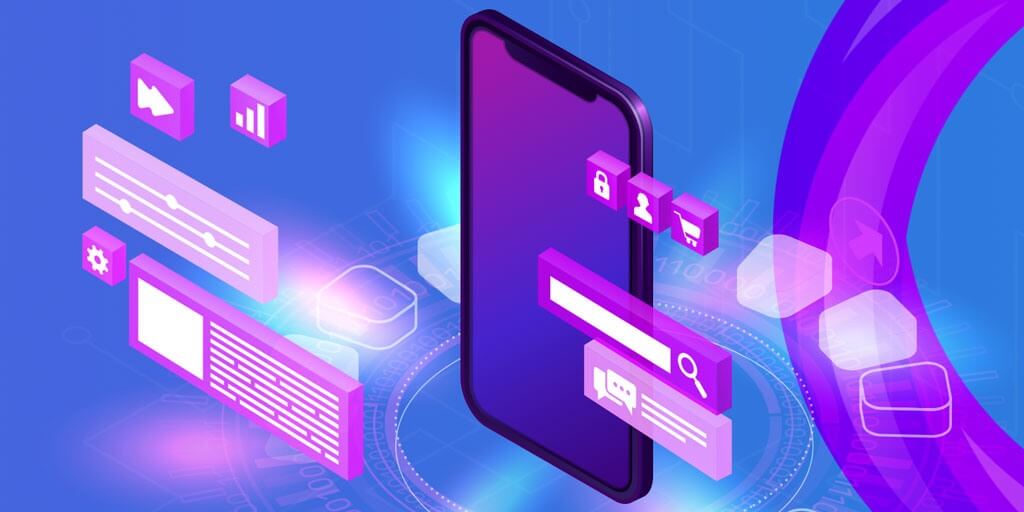 In the development of mobile applications, the design matters as much as the functionality of the App.
There are three fundamental aspects that must be taken into account when designing an application:
Corporate image
UX o User Experience
UI o User Interface
The application must be a true reflection of the corporate image of the business in tune with any other representation of the company, while the user experience and how it translates into the application are crucial aspects to make a project successful.
In a custom development it is essential to work conscientiously to achieve a good App design . This means spending a lot of time on both the image and the UX and UI areas and having at least two specialized profiles.
In the following infographic you can see in detail all the elements that must be worked on and developed within the UX and UI area.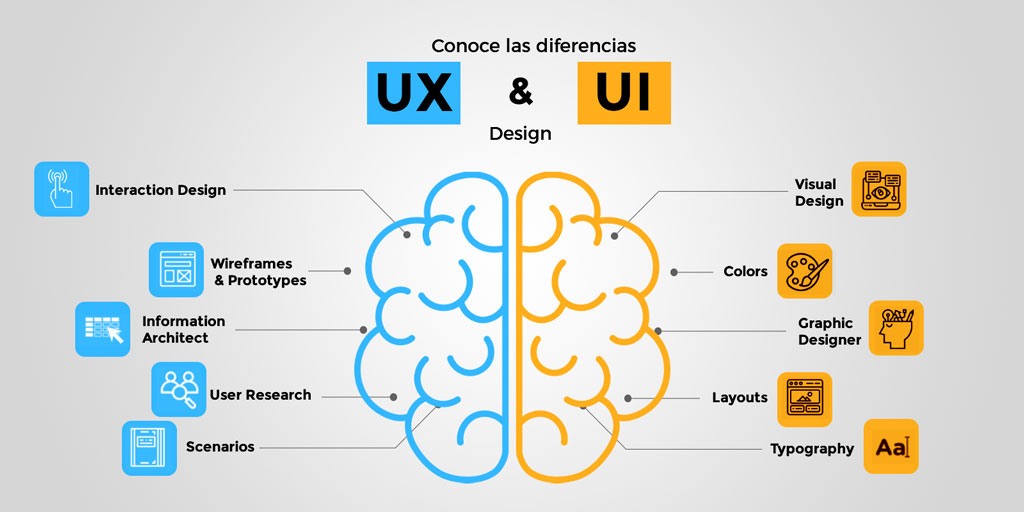 However, when choosing a study to do this part of the development of an app, you should know that not all of them are suitable for this work. application design is a different world from web pages and not everyone is prepared.
You should also bear in mind that the experience level of the designer or UX / UI expert with whom you are going to work will impact the final budget and the level of finish of the app. It is not the same to have the services of a Senior or Master designer than a Junior or an Intermediate.
To give you an idea of the price variation between some professionals and others, Uifrommars published a study in which he points out that the average salary of a Junior profile specialist in UX / UI is around € 22,000 and that of a graphic designer is € 16,000. But if we look at the Master profiles, the average salaries range from € 50,000 to € 57,500.
Obviously, this is something that can greatly impact the final price of any application, but that we cannot underestimate.
Having a good design studio is also essential for the user experience . All the elements that make up the App must be aligned to meet its objective: from generating engagement and for users to interact with it obtaining value, to making it easy for them to use to carry out valuable actions for the business. How to make purchases, registrations or reservations.
In short, do not have a bad experience that makes you uninstall the App.
When developing a custom application, everything related to design must be very careful and usually represents an important part of the final cost of the App. However, with the pre-developed technology the UX and UI part is already created and optimized to meet your objectives, so that expenses are greatly reduced. You simply have to focus on what has to do with the corporate image.
Thanks to a App creation CMS like ours, you can choose default templates that have been designed by an expert team in UX / UI. But not only that, our team continuously works on optimizing it to achieve the best results.
Developing
Without a doubt, this is a fundamental point that can be treated from two different points of view: the quality of development and the development time of the App.
Both aspects significantly influence both the price and the final result that the application will have, so we are going to analyze each of them.
When we talk about quality, we are referring to the application developer can be from a junior or senior independent professional profile, to an agency or a medium-sized consultancy or a large development company such as those found in Silicon Valley.
The larger the company or the more experience the professional has, the higher the prices will usually be. The type of company also impacts the price.
If we look at the experience level of the developer , we can find a price range per hour that varies from € 25 / hour to € 180 / hour. Unfortunately, the result that we can obtain between one and the other is not even close.
This becomes a problem, since many companies cannot assume a high cost per hour of work and in case of opting for a low budget they have a good chance that the result is not as expected.
Again we are faced with the usual problem. It seems that Apps are only for large corporations. But this does not have to be like this.
Our pre-developed technology has great advantages in this regard. We have achieved that users can access the most cutting-edge technology and optimized for the creation of next-generation native Apps , with holistic growth and with the highest quality standards, without having to make a large investment .
Any business can afford to build an App with pre-developed technology . And best of all, thanks to the advanced growth-oriented automated marketing capabilities we offer, it is possible to have a very fast return on investment.
On the other hand, in addition to quality, another key aspect is the time it takes to build an App.
One of the characteristics of custom developments is usually very long delivery times . At the very least, and being optimistic, it can take between six months and a year for the app to be ready for publication. But in case it has advanced functions, this estimate is usually much higher. The problem is that the time it takes to have the application is usually also reflected in the budget. The longer the time, the higher the cost.
However, projects carried out with pre-developed technology allow development times to be adjusted very well, offering a closed budget from the beginning and maintaining the highest quality standards.
Which translates into three benefits:
▶️ Reduction of development times and costs
▶️ Investment risk reduction
▶️ Obtaining the expected results
At Scoreapps, we believe that any company, regardless of its size, needs to have access to create their own App to grow their business and compete in a global market or locally. For them, we have invested more than 30 million euros in developing the most advanced solution of mobile applications for business without programming.
We have a large team of developers specialized in all product areas who work daily to innovate and optimize our technology to offer the best solutions for all types of businesses.
Hidden Expenses
When a project to create an App is considered, very often certain hidden expenses are neglected that can represent a important part of the final budget . But for a custom App to be solid, you have to make a significant investment of money from the initial planning to the final development.
In addition to the factors that we have just analyzed, there are other important points that always influence the total cost of an App. Such as the administration of the application, testing or aspects related to intellectual property.
When creating a custom app, we must always leave a part of the budget for other associated expenses that are not initially taken into account. Later we will analyze which are these concepts in which we must invest before and after launching our App.

Price depending on technology
Today it is possible to create applications as advanced as those made to measure, but with pre-developed technology . And in those cases where this technology is not enough, hybrid applications are the solution. Discover the options available when creating an App.
Custom technology
As we saw at the beginning of this guide, globally large companies spend an average of $ 270,000 to create a custom-developed mobile application . A process that usually lasts an average of one year from the approval of the project until the app is ready to be published in one of the existing markets.
This technology involves creating a unique application with particular specifications made to measure, so the final price is usually quite high. These types of budgets are only, in most cases, available to companies with many resources.
On the other hand, the creation of custom apps is a complex process which, depending on the approach taken, can become unfeasible. Not only economically, but also technically. The reality is that many of the projects of this type that are started are never published.
Fortunately, custom developments are not the only alternative that companies have to be able to build an App.
Pre-developed Technology
The cost of an application developed with this technology is significantly lower than that of a custom one. Although not all pre-developed technology offers the same options, each builder has its own pricing plans and characteristics. Let's see the different options that we have today to development an app in a much cheaper way .
First generation
First-generation App builders were a revolution some time ago, as they became a real alternative to the large investment that it meant for an SME to be able to access a mobile application. Although the reality is that today there are much better alternatives.
We have prepared a ➡️ COMPARISON TABLE in which you can see the differences between the different options you have to make an App. In the case of first generation pre-developed technology, it allows us to create native Android Apps for information or events, but for unfortunately the rest of the functions are quite limited.
The main advantage is that the development time is less than a month for a price of less than € 2,000 and can be done using predesigned templates. Although it is true that in terms of design there is very little that can be modified. And that's not to mention that in many cases technical support and maintenance are not included.
For all those companies that want something more for the same price, second generation app builders are already available.
Last generation
With this type of technology, it is possible to development an app with the same characteristics and functionalities as a custom-made one, but for a considerably lower price. In fact, the cost of an App with this model can lead to significant savings.
In the case of Scoreapps, with our 2nd generation technology you can optimize the price up to 800%.
Our state-of-the-art CMS goes beyond a simple template system. If we go back to the ➡️ COMPARISON TABLE that we analyzed before, you will see that it is actually a holistic marketing tool that allows you to scale your brand exponentially. And it is wrong for us to say it, but this is not offered by any other application builder.
In our case, we offer different options according to the needs of the users. We have several annual and monthly plans that you can check here .
All with the quality of a Silicon Valley developer, with all the functionalities you want (except those made to measure), without extra costs, in record time and for a more than affordable price.
Advantages of Pre-developed Technology
Once you have seen the differences between the two options, it is likely that you have an idea of the significant percentage of savings that can be made for you by making a mobile App with our CMS. But that's not all, we are going to review all the advantages of creating your App with our Pre-developed Technology of the latest generation compared to Custom Developments:
💰 Cost reduction. For a low initial price you can access the most advanced CMS on the market. In addition, you can choose whether to pay month to month or once a year.
👨‍💻 No need for programming. No need to hire a freelance programmer or developer. Thanks to the large investment we have made in development and innovation, you can enjoy the most advanced technology in the sector without having technical knowledge.
⏰ Shorter development time. With our CMS you can have your App ready in a matter of hours. In addition, we offer you the perfect allies so that you can create your native app quickly: training, support and a very intuitive tool always at your disposal.
🎨 Design. You can customize your App with pre-developed designs or create your own corporate ones. It's up to you.
Features. At Scoreapps we have developed more than 50 advanced functions so you can create a perfect mobile application for any sector. Options for e-commerce, multi-language, food delivery orders, push notifications with geofence or automatic marketing reviews among many others.
🖥 Multi platform. Your App will be ready to be published in the market of your choice or in all of them at the same time. You will not need to create a new application for iOS or Android.
🔄 Updatable in real time. An App always updated according to the latest releases and optimizations.
Analytics and ROI system. Our CMS is a very powerful mobile marketing tool. Thanks to Business Intelligence, you will be able to control all the data of your audience, see the ROI of the App and propose strategies to maximize the benefits.
🤳 Self-managing. With our CMS you will have access to an advanced control backend and you will be able to manage your App in a simple and efficient way.
💡 Continuous innovation. Our technology is born from a great team of developers who work to implement all the innovations that appear on the market every day. You will always have the most advanced CMS.
Custom Technology VS Pre-developed Technology
Once all these key points have been analyzed when budgeting an App, we are going to see the main differences between Custom Developments and pre-developed Apps. We have prepared this ➡️ COMPARISON TABLE which we talked about before where you can see everything that each of the options we are analyzing includes.
Look first at the first two columns. As you can see, the main factors that determine the price of a Custom Developed App are considerably optimized with the Predeveloped Technology .
Taking these differences into account is vital because they can lead to very important savings throughout the development process. In fact, it can make the difference between a viable project that is up and running in a short time, or a project that never sees the light of day.
So that you can see the price differences in real figures, in the case of our CMS users, this saving amounts up to 800% . Without giving up a very high quality standard and innovative technology updated daily.
On the other hand, if your project is more advanced and you need your App to meet certain specific characteristics, a Hybrid App also has enormous advantages from the point of view of the development process and price.
Hybrid Technology
Earlier in this guide we have mentioned how we can, thanks to Hybrid Apps , get where Predeveloped Technology sometimes cannot. But without incurring large budgets and the risk of custom developments.
As you can see again in the ➡️ COMPLETE COMPARATIVE TABLE, this time we are going to look at the global analysis, making a Hybrid App brings with it all the benefits of Pre-developed Apps (cost savings, excellent user experience, advanced automated marketing functions, shorter development times, structure and data storage). Along with the elasticity that allows adding a specific functionality using a different programming code to the Android and IOS code.
For example, this additional function can be developed in .php and HTML. Which is always cheaper for two reasons: the first, because it would only be necessary to develop that custom functionality and the rest of the App and the structure would already be pre-developed; and second, because those programming languages are more popular and there are more experts who develop on them.
The ones we develop in Scoreapps represent savings of between 65% and 80% compared to a custom-made native App .
A strong point of this technology is that, for a very reasonable price, you can take advantage of all the features of our Predeveloped Technology, but with the added bonus of adding custom-made extra functions at a much lower cost than what a custom project entails.

Other app development costs
Although it seems that there are no more things that we have to take into account to know the price of creating an App from scratch, the truth is that we cannot forget about other associated expenses .
iPhone application development costs
In addition to developing the application in question for iOS, there is another expense that we must take into account. The cost of publishing the App on the Apple Store . To do this, we must register as a developer and pay a fee of $ 99 with annual renewal.
Once you have obtained the license, you can start uploading applications to the App Store so that other users can download them.
Android application development costs
On the other hand, if you want to launch your own app in the Google Play Store, you will also have to register as a developer . In this case, a single payment of $ 25 is made, it is not necessary to renew it. However, you will have to pay $ 25 each time you want to publish a new application.
Expenses prior to launching an application
Before launching the app that you have created there are some very important extras in which it is advisable to make a small investment.
To be able to make sure that the application does not have errors or technical failures before publishing it, which is highly recommended, you need to do tests. In addition, these tests will also help you avoid headaches when sending your App to the markets, which in turn require approval of your application before launching it.
Beta testers are responsible for finding all those details that may have been overlooked, as well as implementing the user experience. In fact, keep in mind that another added cost is to solve all the problems that arise in the testing process.
At Scoreapps we have developed the "Preview-up" option in which users can see your App as it will be displayed before publishing it. So this is another expense that you can save if you use our application builder.
The part that has to do with the intellectual property of your business must be well protected. Otherwise, the application can get into the hands of competitors who can outbid you in price or resources without you being able to do anything.
These are the different levels of protection that you should take into account:
🔹 Copyright . In this way you can protect the text, images and multimedia elements of your App as long as they are original.
🔹 Patents. To avoid that another person can take advantage of the same idea that you have had with your App by duplicating it, you must register it.
🔹 Trade mark. To protect the name or brand of your mobile application.
These legal procedures have a price that varies depending on the country in which you are. But they are essential so that no one copies or plagiarizes what you are doing.
This is an unavoidable expense. You are going to have to invest in a marketing strategy for the launch of your App if you want to be able to download it and make it become known among users.
How much you spend on marketing will depend on the goals you set for yourself and how ambitious your strategy is.
At Scoreapps we offer many marketing materials, such as flyers, presentations or posters, so that users can customize them and use them in the launch of the App. In this way that part of the promotion process is covered. Assuming a great saving of money and time .
Post-launch expenses
Once you have launched a new App to the world, in addition to seeing how they begin to download it, you must also take into account the following concepts.
👉 Administration and technical support
It is necessary to have a infrastructure that manages updates, manages user profiles, the API, collects data, monitors the behavior of your users and everything that is necessary. Otherwise your application won't get very far.
In the case of custom developments, these requirements must be contracted separately, but must be contracted. If you do without them, it is very possible that your app will stop being functional.
However, in most app builders this service is included to a greater or lesser extent depending on the company. At Scoreapps we have a very complete Technical Support and advisory service to cover all the needs that users may have.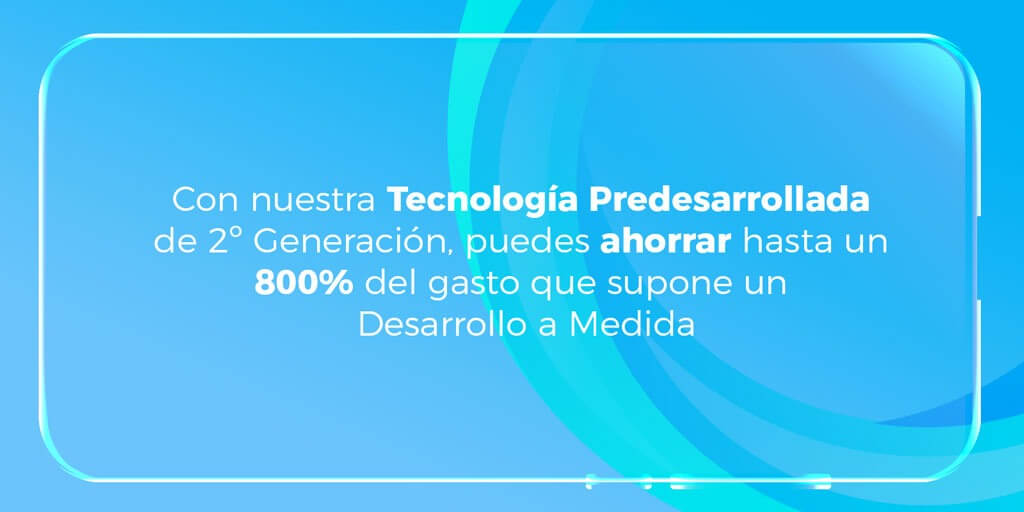 Investing in maintenance means that your application is optimizing and adding new functions as downloads increase. Same as offering a good UX or user experience.
In custom developments, the maintenance of an App can represent an average of between 20% and 30% of the total costs of the application . If, for example, the development of your App costs around € 100,000, at least € 20,000 will be allocated to maintenance tasks.
Now, with a pre-built technology builder , this process is at the company's expense. At Scoreapps we are committed to continuous innovation in our technology, including the maintenance and updates of our users' Apps.

Price by type of applications
When creating an App we have seen that you can do practically everything you propose or what your business needs. However, each sector usually has different characteristics that make mobile applications similar. Let's see the price of creating an app of the following types:
Database applications
Applications that allow you to organize files, programs, applications on your mobile or even manage a business database are quite popular. The price of making an App of this type is between € 8,000 and € 50,000 depending on the characteristics it has.
Advertising applications
Advertising apps are often used to promote a particular product, event or service, so they are not usually intended for long-term use or have many functions. It is possible to make an App of this type to measure for a price that starts at € 2,000.
Ready applications
On the one hand, there are apps that allow us to create a shopping list, of the activities that we have to do or synchronize with the agenda to optimize our time. These types of applications can be created with budgets that start at € 5,000 to measure. While if what you are looking for are applications ready to be published in the different markets, the price will be much higher.
Application of a social network
Making your own social network is possible and has a price of between € 15,000 and € 25,000. Of course, everything will depend on how you want it to be, the final design, the functionalities and the interaction options that it allows. Although in this case it is very important that you invest a little more in privacy and security software.
E-commerce application
Launching an e-commerce application is a very good idea that you can carry out with an investment of around € 20,000. Although the more references you want to add to the app, the price is likely to go up. Also, keep in mind that in this type of application it is advisable to add some implementations such as discount systems, affiliate programs, promotions and all kinds of payment systems.
Dynamic applications
Some of the apps that have a higher cost are those that change over time and that adapt to circumstances, databases, etc. Dynamic applications tend to be quite expensive to create.
Marketing app
As with advertising applications, marketing applications are often used to promote an event such as a music festival or a launch of a new clothing line. The most common is that its time of use is limited, so the price is quite accessible, ranging between € 2,000 and € 5,000.
Internal management application
An in-house or internal management application is a very useful tool for many companies, since it allows you to interact with employees, sign contracts, assign tasks or organize the days. The more options you integrate, the higher the price, although it usually starts at € 12,000 for custom apps.
Games Applications
Games are one of the most popular types of applications. The price usually varies between € 30,000 and € 50,000 and the variables that usually influence are the design, the multiplayer options or the different game dynamics.
Marketplace
The price of a mobile application of this type cannot be fixed until the number of users, the roles of each one, if a support chat will be available, the options to make payments, the interactions between the buyer and the seller in the sale, etc. But the truth is that they usually cost between € 12,000 and € 20,000.

How much does it cost to make an app in Spain
The price of creating an App in different countries is highly variable, since as we saw earlier in this guide, the costs are always subject to the characteristics of the App, the developers, etc. However, it is possible to have indicative prices on what it may cost to make a custom mobile application in other countries.
In any case, remember that at Scoreapps we work in all countries democratizing the access of entrepreneurs, small and medium-sized companies to Apps. So you can always use our latest generation technology to create a mobile application with all the functionalities at a much lower price.
The development of a custom App in Spain can cost from € 20,000. The price depends a lot on the characteristics of the application and the functions that you want to include. From that price, a very advanced App can easily reach € 100,000. Although we must point out that Spain is one of the cheapest European countries to make a custom App.
By type of professional
Depending on the experience of the designers and programmers that you hire to make a custom mobile application, the price will also vary. Although it is true that it is possible to find junior specialists for a much lower cost, you must bear in mind that this will also be seen in the result.
In general terms, we can say that a development company charges more per hour but usually offers tighter delivery times. Whereas a freelance developer usually sets the hourly price at a lower price.
By location
Creating an App in big cities like Madrid, Barcelona, ​​Seville or Valencia usually has a higher price. On the one hand, because they are the localities where there is more work and therefore where there is more competition because specialized professionals are located there, but also because the expenses associated with having a business in these places are higher.
The time in Madrid is charged at a higher price, a little lower in Barcelona and Valencia, although in Seville the difference is already considerable. This can make you think about the possibility of hiring a expert or agency that works remotely .
By technology and operating system
If there is something we want to make clear in this guide, it is the great price difference between creating an app using one technology or another. application builders with state-of-the-art pre-developed technology are always the option with the best value for money. While making a custom application from scratch can be an affordable investment for very few companies.
Likewise, our CMS allows you to create Apps for iOS, Android or both operating systems at no extra cost. In the case of opting for a custom app, you will have to take into account the cost of two professionals who adapt the application for use on each device.

👌 How Much Does a Server Cost for an App
If you are looking for information about How to development an App without programming without a doubt this is the guide you should consult.
In this article you will find how you can make your Mobile App step by step, from scratch and without having programming knowledge. But not only that, as we want to guide you throughout the process, you will also find much more valuable information that you need to know when launching your App.
What is its price, how to publish your Apps, how to promote them and start generating income from day one are just some of the aspects that you should know. You have before you the most complete guide on the market, and FREE.
💰 How much does it cost to patent an app?
Do you want to know How much does it cost to development an App ?
Companies that are encouraged by custom development usually spend between € 20,000 for the simplest Apps, and up to € 200,000 for more complex applications.
Scoreapps Hybrid Developments save you up to 800% in cost and development time.
We can create Apps 8 times faster and much cheaper than other companies.
🚀 Budget to develop an App
If you are already in a more advanced phase and you have knowledge of how to make an App up to Since you have already developed yours, you may be interested in how to promote it to reach more customers.
In this guide we show you all the channels that you can use to get the most out of your Mobile Application, serving as a basis to sell new applications.
🥇 How much does it cost to program an App
If you are considering how to make an Uber-type App It is because you have no limits and you intend to develop a mobile application that will revolutionize the world. But is it within the reach of anyone to create this type of Application?
The first thing you should ask yourself is if your business model is based on the same as Uber or any other VTC application. If so, we encourage you to analyze your competition's applications, and propose new functionalities and improvements. What fails with these Apps when you request a service? How could you optimize its operation or add new value to your users?
The key is to offer what others do not yet offer to get that market share.
🔥 How much does it cost to upload an app
Who has not considered the success of applications like Tinder and other dating apps? Surely you've ever thought how to create an App like Tinder and make money. Well indeed, you are not the only one.
You always have the possibility of developing these types of applications, which allow users from different locations to connect and establish relationships with each other. Do you have an idea based on this dynamic but that improves the functionalities offered by Tinder and other similar applications?
The key is to follow all the steps you have seen in this guide, but providing a differential value to users. Success is guaranteed.
💼 How Much Does it Cost to Make an App in Mexico
In Mexico, developing a custom App varies between 240,000 and 400,000 pesos. The cost can go up or down depending on the features and functions you need it to include. In the case of highly advanced mobile applications with special needs, the price can go up to one million pesos.
😉 How much does it cost to create an app in Colombia?
Creating a custom App in Colombia can cost between 25,000,000 and 50,000,000 Colombian pesos. Although it is possible to find applications that reach the limit of 200,000,000 Colombian pesos. The investment required will depend on what you are looking for as well as the professionals you hire to do the job.
💰 How much does it cost to make an App in Peru
In Peru, the cost of developing a custom App ranges between 55,000 and 74,000 Peruvian soles. The price will depend a lot on the characteristics of the application and the functions that you want to include. From that price, a very advanced App can easily reach 360,000 Peruvian soles.
🔎 How much does it cost to make an App in Chile
The development of a custom App in Chile is between 5,000,000 pesos and 10,000,000 Chilean pesos. Within that range you can find apps with different functionalities, the more personalized it is, the more the price will rise. In fact, a custom App with all kinds of advanced options can exceed 40,000,000 Chilean pesos.
📱 How much does it cost to make an App in Argentina
In Argentina, an investment of between 500,000 and 950,000 Argentine pesos may be necessary to obtain a customized mobile application. This price can vary, obviously the more features we add to the application, the more complex the project will be. A very advanced App that includes all kinds of pro functions can easily reach 5 million Argentine pesos.
🛠 How much does it cost to make an App in Colombia
Creating a custom App in Colombia can cost between 25,000,000 and 50,000,000 Colombian pesos. Although it is possible to find applications that reach the limit of 200,000,000 Colombian pesos. The investment required will depend on what you are looking for as well as the professionals you hire to do the job.
📊 How much does it cost to make an App in France?
Creating a custom App in France has a price that starts at € 30,000, although of course, in the case of applications with personalized functionalities and advanced options the price can be multiplied by four or five perfectly.
❓ How much does it cost to make an App in Italy?
Making an application in Italy has a price slightly higher than creating an App in Spain. A basic option for a simple application can be around € 25,000, but again, the more specific the App is, the more the price will go up. Being able to exceed € 150,000.
💸 How much does it cost to make an App in Germany?
Germany is one of the most expensive European countries to create a custom mobile application. Although we have to point out that they also tend to develop applications with very good results. Hiring an app developer in this country can make your app worth at least € 50,000.