Why should a sports center have a mobile app?
The daily use of the mobile phone makes it difficult for us to separate ourselves from it even when we are going to do physical exercise. Whether you run outdoors or if you are enrolled in a gym, there are so many utilities that it is difficult to do without it.
This article does not go into assessing whether having it on you is the best way to train with intensity or not to achieve the desired goal. It is not about that.
But I am going to explain in it how much fitness or sports centers are interested in having their own mobile application:
How they benefit from taking advantage of this technology
How it affects the service they offer, the satisfaction and comfort of their customers
And in how it reinforces their loyalty or loyalty towards their health establishments
In short, how you improve retention and your relationship with your customers. And therefore, its growth.
If you have a fitness or health establishment and you are considering having a mobile app to multiply its turnover, see below how it fits into a global mobile marketing strategy and read on.
<! ------- Flywheel Mobile Marketing Form -------------->
<! --------------------------------------------------------->
Mobile Marketing Flywheel
The definitive guide to taking your business to the next level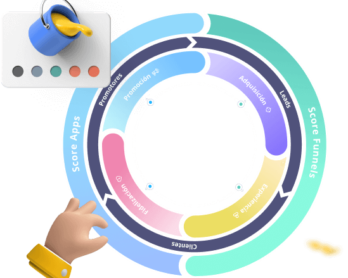 So that you understand it better, I show you the example of one of our clients: the chain of sports centers Holiday Gym, which more than four years ago had very clear all the benefits that creating its mobile application was going to bring and make it available of all your customers.
In addition to transferring the advantages of mobile apps to the sector, from the outset he wanted to make one more difference between his way of understanding the exercise and that of his competition.
Brief history of Holiday Gym
The chain of sports centers Holiday Gym was born in Spain by the businessman Luis Guerra in 1984. It has 15 establishments in Madrid, 4 in Alicante, 1 in Zaragoza and 1 in Ibiza. And it was born with the aim of breaking with the traditional idea of ​​the gym and introducing a new concept to the market.
From the beginning, Holiday Gym has set itself the goal not only to improve the physical condition of its members, but also to promote their mental health and well-being under the motto 'fitness by and for all'.
With more than 30,000 members, a workforce of around 500 employees and state-of-the-art sports equipment, more than 1,000 people burn calories daily at its facilities. It is a benchmark among sports and health clubs in our country and in 2021 it will celebrate 37 years of life.
The creation and development of its mobile application more than 4 years ago meant, in addition to being ahead of its competitors, providing the chain itself with a powerful, more effective management, control and marketing tool.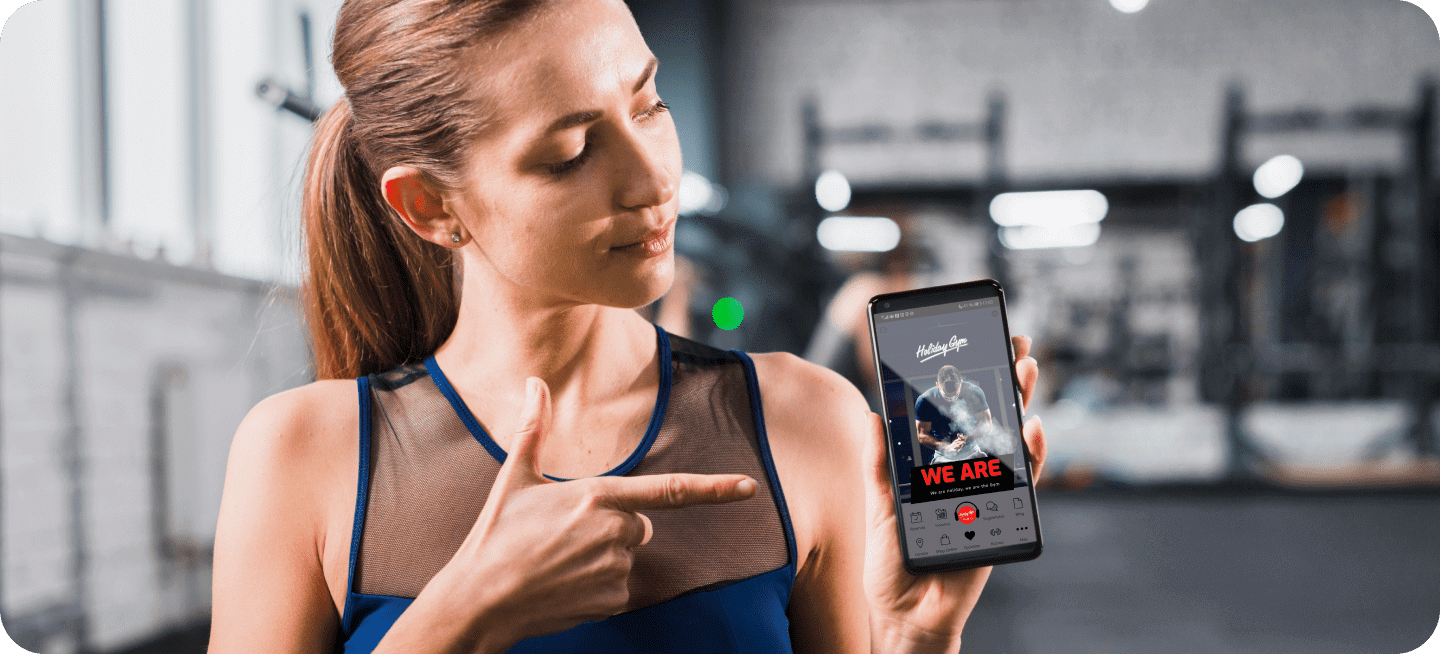 And their members have a tool that makes them feel a closer relationship thanks to having at hand all the essential information for their sports practice.
The need to create a link with partners through mobile
As Diego Domingo Millán, Holiday Gym Marketing Manager, explains, despite the fact that the gym's website complied in some way by answering the typical questions of
"Where are the centers? What kind of classes are there? Or what are the schedules of the activities?"
In the end, they considered it necessary to have a more direct, fast and effective means of communication that also offered different functionalities that would help to value the offer of gym services.
Until then, the only communication channel with the partner was their interaction browsing the website and email. A one-way communication channel.
In this context, the mobile application offered a possibility that email and the website did not: have a channel for direct contact and contact, at any time, with partners.
In addition to incorporating other useful functionalities for them, both at the time of their sports practice within the facilities, and when they are outside them.
The app would facilitate communication between the gym and the client, improving the latter's perception of the relationship they maintain and would encourage closeness.
It thus became a comprehensive, efficient solution with an excellent cost / benefit ratio.
But it's not just that. In the words of Diego Domingo Millán,
"… gave the opportunity to offer our clients many more services … Holiday Gym is not just a gym that teaches classes, it is a gym that believes in a much closer relationship with our partners. We create events that we carry out in our centers, we offer personalized advice on their routines and follow-ups … All this forms a world that we call Holiday Gym World, which is the one we wanted to bring our partners closer with the mobile application ".
What the Scoreapps app brings to a gym like Holiday Gym
From the moment they contacted Scoreapps , the Holiday Gym mobile app became a challenge for our consultants, developers and designers.
The gym chain already had references about experiences with apps in other businesses and, together, it was decided to work on the design and functionalities of the application in three aspects:
As an organizational solution for the gym itself.
The manager of each center can have control and management of the data of his establishment and make decisions accordingly.
As an organizational solution for the partner.
The client always has at hand the schedules, the availability of classes and their reservation, the payment of fees and classes, the information available is always updated -suspension of activities, changes in class schedules, teachers-, the location of each center via GPS.
As a marketing tool for the gym.
Among the functionalities that Scoreapps proposed to incorporate the app to strengthen the Holiday Gym World concept, the creation of a music and radio channel with different styles such as Ibiza, Latin, Pop, Rock and Zen stands out.
Also, a store where you can buy products and make cross-sales, a section of routines to train more efficiently, a blog, a calculator of body mass index, a section of personal trainers, a counter of calories burned …
In addition to the specific set of functionalities for this type of business that our tool offers, among which the sending of Push Messages stands out for its practicality, which is added to the more than 55 that any mobile app design made with the tool can incorporate construction of Scoreapps .
The mobile application for sports centers enhances both the registration of new members and the loyalty of those that already exist, reducing the number of casualties due to the stiff competition in the sector. In this sense, it allows you to easily create discount vouchers and loyalty systems.
And also, all the information that can be found on the gym's own website but with much more direct and up-to-date access.
The 4 main benefits of a mobile app for a gym
To finish this post and as a summary, I compile here the four main benefits that derive from having in a fitness or health center with a mobile application.
Better customer acquisition and loyalty.
Effective management and organization of personnel and services.
Increased satisfaction and improvement of the member experience.
Optimization of the center's online presence thanks to SEO positioning and in the application markets.
Diego Domingo Millán, Marketing Manager at Holiday Gym.
"The creation of a mobile application is an advance towards the loyalty of your customers. You give them the possibility of interacting with you in a much more comfortable environment than accessing a web page, much more agile, much faster. all promoting in the end a much more direct communication. The application allows you to send notifications, messages and notifications about events very well segmented, depending on their center, their location. This makes the information sift and make it more relevant to the person than it is. receives ".