Not only consumer habits have changed. Affordable and highly advanced solutions and tools such as those from Scoreapps make it easier for the hospitality industry to have resources until recently unattainable due to time and cost for the majority. Look at the example of Arepera Caracas, in Santa Cruz de Tenerife.
There are many types of businesses that day by day have to improve the customer experience. And the restaurant sector cannot be an exception.
A mobile application for a restaurant means, from the outset, giving the customer the possibility of having the establishment's menu always within reach in their pocket.
That without entering, for example, in:
How to improve your online presence
How it makes ordering easier
How you narrow your communication with customers
How you build loyalty
How you even improve your internal management
Issues that Jesús Eugenio Brito Vera </ strong>, owner of Arepera Caracas </ strong> in Santa Cruz de Tenerife, had very clear in 2017, at which time he decided to create his own mobile app for he.
If you have an establishment in this sector and you are considering having a mobile App to:
Multiply your billing
Provide more value to your customers with better service
And you want to position yourself above your competition
Find out how it fits into the most current global mobile marketing strategy and read on.
Generating business for 3 generations
Arepera Caracas is the story of a marriage of emigrants who On their return from Venezuela to their homeland, the Canary Islands, they decided in 1966 to open a local business in Santa Cruz de Tenerife in which to cook arepas, a typical dish from those distant lands.
From then until today, 3 generations have evolved the business according to the tastes, demands and technological evolution of its clients and society, benefiting at all times from the opportunities that they offer.
"We believed that it was very appropriate to have more direct communication with the customer at that time. Give the customer the possibility that from the palm of his hand he could place orders, get to know the company better, receive instant notifications …". Jesús Eugenio Brito Vera, Arepera Caracas.
What are the main benefits of having a mobile App for a restaurant like Arepera?
A mobile application for restaurants generates mainly two types of benefits: for the customer, of course, and for the business organization itself, since it allows you to manage your staff more efficiently by removing them from tasks such as telephone service, reservations, etc.
Scoreapps offers the option to create it yourself because it is not necessary know nothing about programming.
But if you don't want to start designing and building including all the content you want, your menu, your tables, your promotions and much more, we can also create it for yourself following your instructions and taking care of everything.
As happened with Jesús Eugenio Brito Vera from Arepera Caracas .
Using the same tool that he would have used, we create and develop the mobile application of his restaurant in a personalized way, under his supervision but without worrying about the entire project process.
The main objective that a mobile App must fulfill for a restaurant is to increase the number of visits, retain them and increase the cost per customer in successive visits.
But from here on, the App came to solve the main concerns of Arepera Caracas' head in an environment of restaurant clients, more and more users of mobile devices.
Ease of making reservations and food requests and online delivery
Online orders and reservations are increasingly a part of the business that a restaurant cannot give up.
Table reservation at any time and from anywhere.
Publication, consultation of the menu with photographs of the dishes and attractive descriptions and easy ordering. If you have to turn on the computer.
Letter updated and up to date.
No waiting.
Integration of the payment gateways most used by customers to facilitate home delivery.
Automation and simplification of orders
An App optimizes the management of customer service times, the organization of the kitchen and, consequently, allows to take on more orders. Or what is the same, increase the turnover.
Establishment of a more direct and close communication with your client
Through the functionality of sending Push Messages with geolocation.
These are a type of notifications that can appear on the mobile screen of App users when they are near the restaurant or at a time of consumption.
They constitute a direct and immediate way of communicating with the client, since it is not necessary to have the App open for them to appear. This is how Arepera Caracas uses them, sending news of the Letter, promotions, informative messages, discounts, etc.
Preparation of email address lists for email marketing.
"I think it is very important to display the restaurant on the internet, whether through social networks or mobile phones, that you can send a push notification directly to the customer. I think it is vital to have a mobile App of your company anywhere sector. It's a much more direct channel. " Jesús Eugenio Brito Vera, Arepera Caracas.
Positive reviews and customer ratings
That they gain reputation and visibility online. Customer ratings of Arepera Caracas food and service on portals such as Yelp, TripAdvisor or similar help improve the establishment's online presence and encourage visits or online food requests from other customers.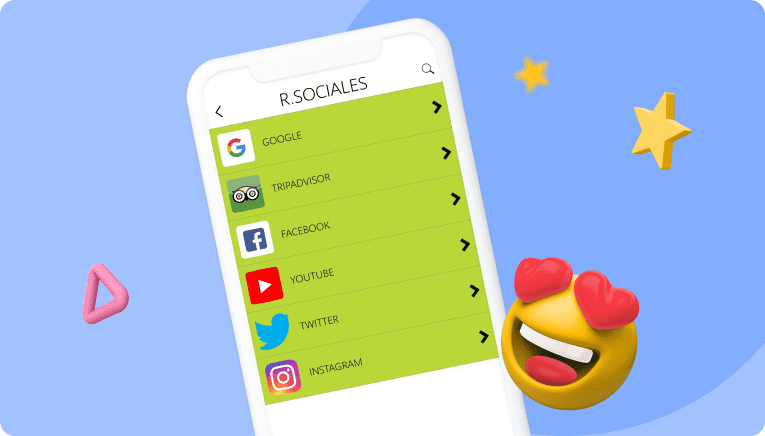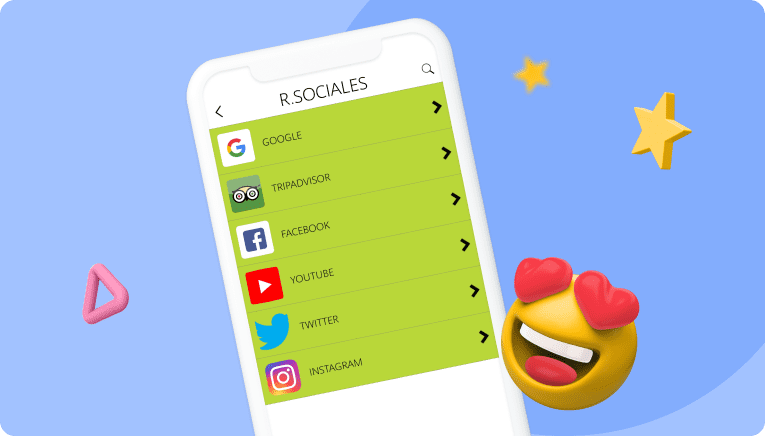 Improved customer loyalty
Creation of loyalty programs through QR coupon systems and point cards, which help to retain and strengthen relationships with existing customers and also attract new ones. These, turned into loyal customers, are the restaurant's best brand ambassadors.
Possibility of offering discounts based on the number of drinks, orders or visits or introducing them in a specific number of first orders. This is how it is possible to repeat the consumption experience in the local or at home.
Construction of a database with the profile and tastes of customers to use for marketing purposes.
Greater visibility and online presence compared to the competition
The restaurant is easier to find on the internet and decide on it.
A mobile App contributes efficiently to the recognition of the brand, to the improvement of the online presence and to improve the image as a restaurant.
Simplification and justified decision making
Having data is key to a better business organization. Thanks to the metrics, statistics and analytics obtained from the application and the data of the customer's consumption histories, it is easier to adapt the business to the consumer's demands: number and profile of users, orders, reservations , inquiries, etc. They constitute valuable information that, when used well, turns into higher business figures.
Reviewing the behavior of users through analytics allows taking the necessary measures to offer them the best possible experience.
Greater differentiation from the competition
The Arepera Caracas mobile App represents a leap in quality and differentiation in the customer experience compared to the local competition of other restaurant businesses in Santa Cruz de Tenerife.
It gives the establishment an image of innovation and quality that makes it stand out in the restaurant sector.
Integration with rr.ss
In addition to facilitating the location on the internet, the integration of the App with social networks such as Facebook, Twitter and Instagram allows it to offer a solid image and build a coherent brand presence that is very close to customers.
"I would recommend the Scoreapps service because I did not worry about programming headaches, they made me an approach, they made me the design, it was uploaded easily and without any problem to both the Apple and Android stores and we it has worked very well. " Jesús Eugenio Brito Vera, Arepera Caracas.
Conclusion
To this day, Arepera Caracas continues to benefit from all the advantages that you have seen and that offering its services through a mobile App and incorporating the new functionalities that come onto the market into the menu of its application.
So if you want to always be at the hand of your customers, achieve greater and better online visibility, improve internal management of business processes, build loyalty and improve the experience of your customers, it is time to create your own App or follow the example de Arepera Caracas and contact Scoreapps so that we can develop it for you.
You dare?