Build an App
for your Store
Do you know what is the best showcase for your store? Your mobile App. If you don't have one yet, you are missing great opportunities to grow your business. Gain more customers per day, increase your average ticket, show all your products and include services you didn't have until now.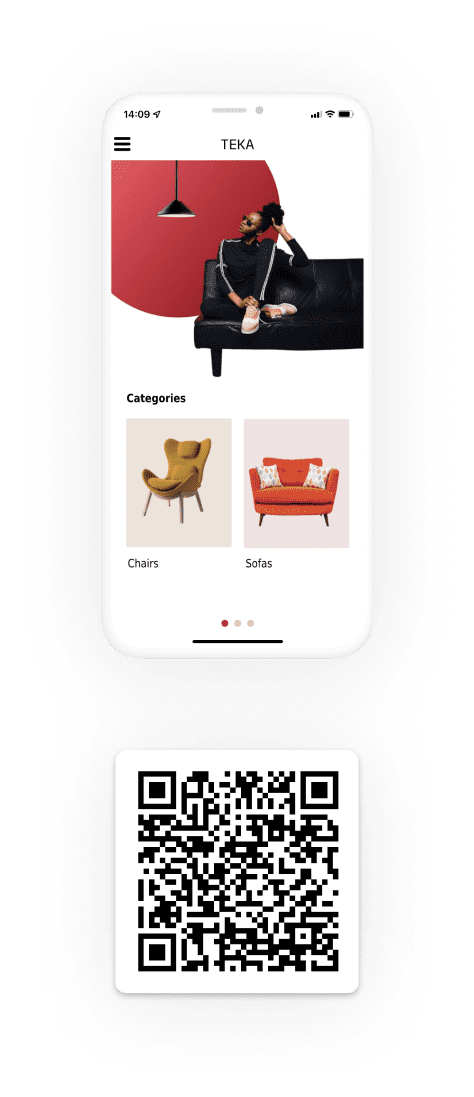 TRY THE APP
More than 60,000
Apps published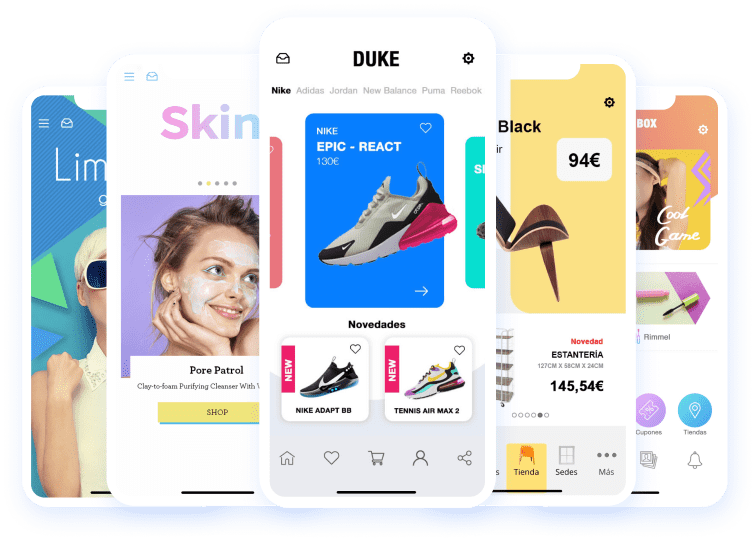 The same technology used by large retailers
Promote
your business
Being in the markets will make you more visible and will promote you among users.
Platform
ecommerce
Integrate your ecommerce platform with payment gateways.
Fast
checkout
Easy checkout process for your customers, fast and customizable.
More technical
sales techniques
Mobile marketing allows you to activate effective techniques to increase your sales.
Customer acquisition

Open new communication channels with your audience and attract more customers.
Engagement
strategic
Offer discount cards, QR codes and keep your customers coming back.
Why your store urgently needs an App
Nowadays business is projected from a mobile view. This happens since the Mobile First came into our lives in 2018 and the business growth model began to change. Having an App and a mobile marketing strategy is vital to compete and scale, but not all businesses have the budget for it. Which one is yours? Surely we can help you, because we have a pre-developed technology that will save you costs.
Benefits of retailer Apps
Surely you have imagined some of them, but many of them are escaping you. In addition to having an efficient management panel for reservations and orders, with your restaurant's App you can upload all the content you want and update it (photos, videos, menus, interactive map, events, etc.). You will be able to open communication channels with your public, be present on Google and Apple, launch promotions and position yourself above your competition, etc.
Start Free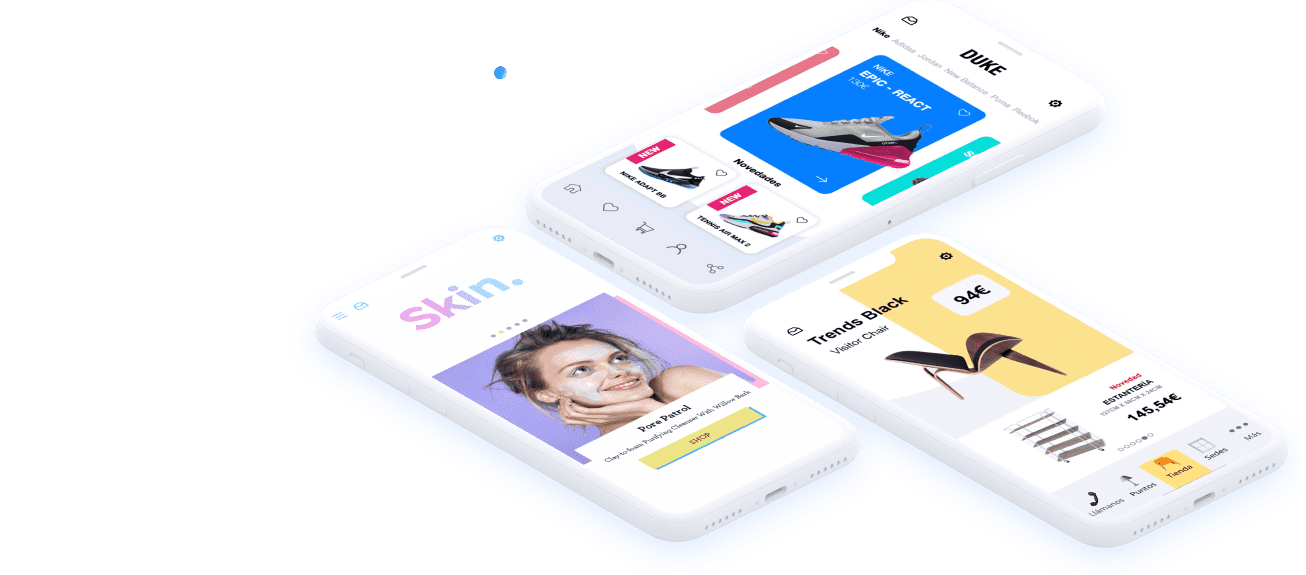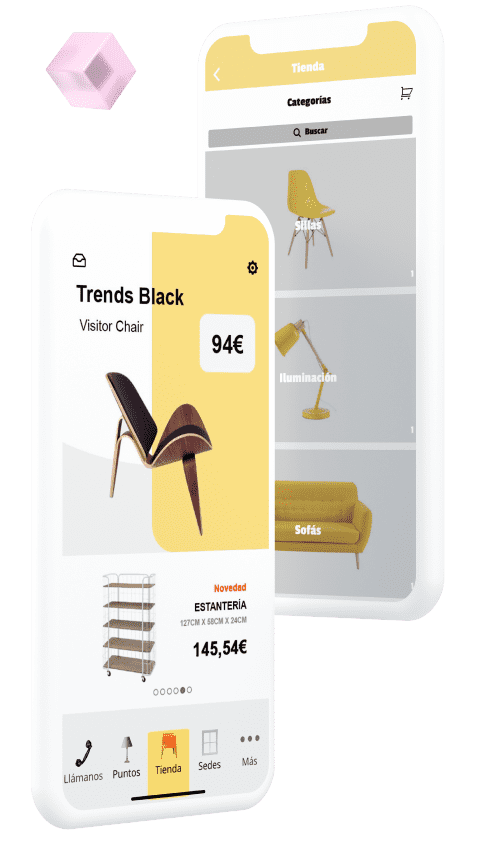 Offer your customer more services
An App allows you to launch marketing actions that could not be done with a physical store alone. Do not limit yourself only to the purchase and sale of your products, offer other services to your customers such as personalization of the purchase process, telephone advice, rewarding their loyalty with exclusive offers and stamp cards, the evaluation of your service through forms. Thank them and welcome them with push notifications on their mobile home screen, create content and send it to them, set up events and invite them.
Start Free
Main features
for
your store App
Mobile technology is as extensive as it is precise, That's why you must be clear about the features you will provide your App with before creating it. Here are the ones that could be more focused on the growth of your business.
Start Free
User registration

You'll attract more leads, get to know your customers better, impact them with powerful marketing strategies and improve the user experience.

Ecommerce

You will receive and manage orders from any device, integrate payment gateways and customize the checkout process.

Positive reviews

Your customers will be able to leave reviews and ratings about your products, which will increase your promotion and differentiate you from your competitors.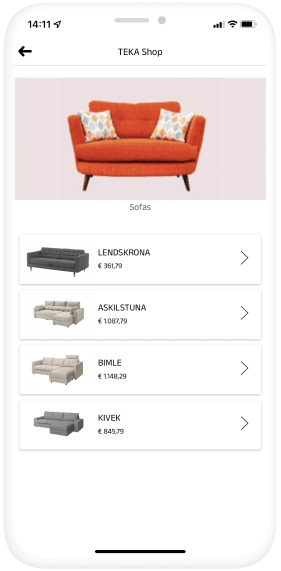 Geolocated messages

Send your customers geolocated push notifications when they pass by your competitors' stores, as well as personalized offers and greetings.

Multimedia content

Showcase every last detail of your products through the content of your choice (images, videos, music, etc.) and drive conversions and sales.

Analytics and engagement

Business intelligence to know the progress of your customers, reward them with exclusive offers and promotions and keep them loyal so they don't leave.
Save money
Your own App will not only impact your revenue generation and customer conversion, it will also directly save you money in managing and promoting your business.
100€/day

Reservations and orders

1.500€/day

Mailing and advertising
Business intelligence at the service of your business
What can't be measured can't be improved. That's why we include a powerful analytics and business intelligence system that will allow you to monitor the use that your users make of your mobile App, as well as access their profiles to know them better, segment them by interests, check the status of your sales and even send them individual push notifications.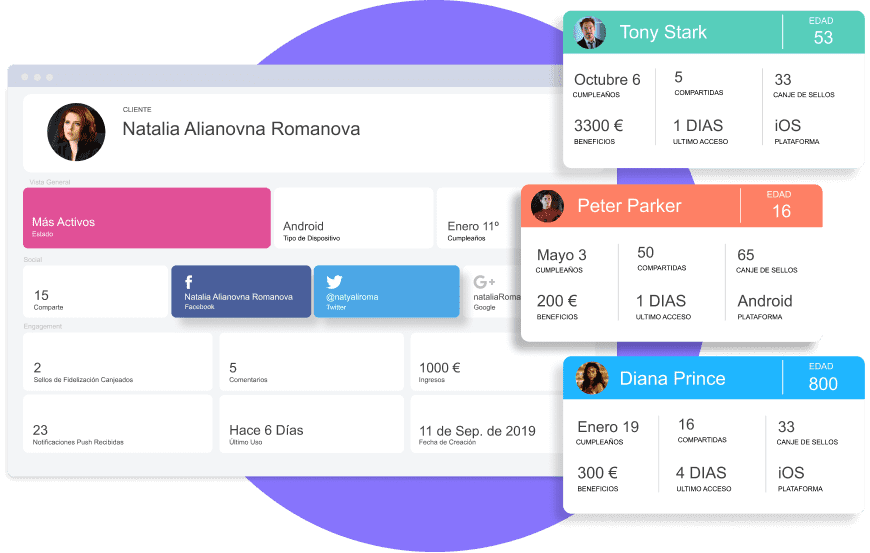 Would you like us to take care of everything?
None of our tools require any technical or programming knowledge.

However, if you already have a business or are thinking of launching one, you may not have the time to create or design your own mobile application, website or funnels. If this is your case, or if you need a custom development, our team can do it for you and take care of the whole process of design, configuration and publication of the product you want to launch or even its copywriting.
Quote