Build an App for your hotel
If your hotel does not yet have an App, now is the perfect time to create one. You don't need time or technical knowledge, not even a large financial investment, just imagination and business vision. We have the best technology and mobile marketing strategies to make your hotel be at the forefront of the industry.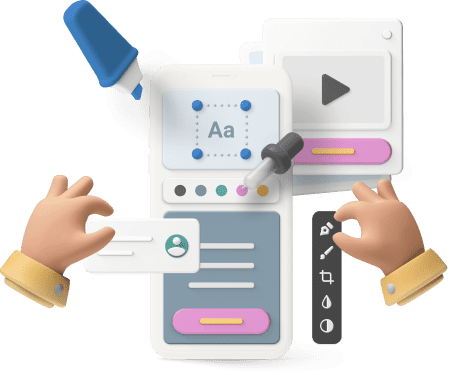 More than 60,000
Apps published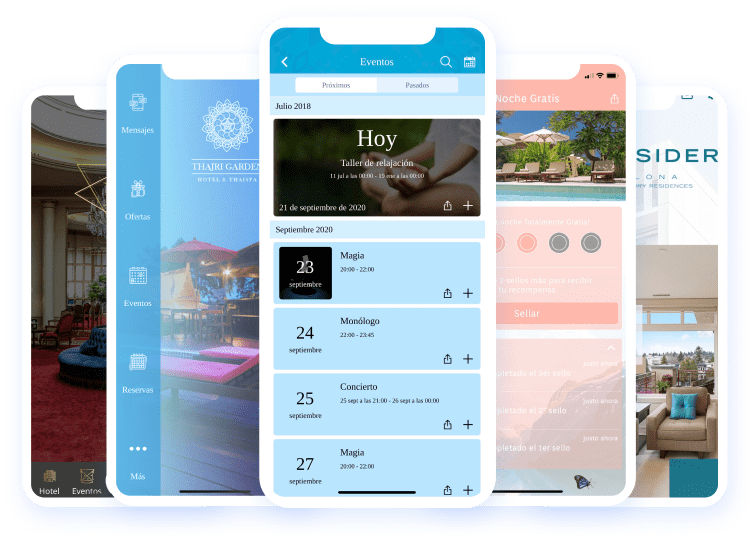 The same technology used by large complexes
Content
multimedia
Bring your web content to the App without limit and showcase your hotel's charms.
Instant
bookings
Receive bookings directly from your customers and don't miss opportunities
High-speed
exposure
Wall for your community, social media integration, ratings and reviews.
Get more contacts
Increase your database and drive a good email marketing strategy.
Engagement strategy
Offer discounts, cards, coupons, etc. and keep your customers coming back to your hotel.
Connect
additional services
Connect the services of your restaurant, bar, tourist and leisure activities, etc.
why you should lunch an App for your hotel
Hotel customers are willing to do much more with their smartphones than is currently possible, and do you know why? Because with the arrival of Mobile First, the business model has not only migrated to mobile devices, but it doesn't stop surprising us with great possibilities and marketing solutions for the hotel impulse. But all this is happening very fast and we don't want you to be left behind. That's why we help you to take that big leap without any financial effort.
Advantages of hotel Apps
The main advantages lie in the diffusion and publicity that you will give to your business with an App. You will gain more visibility by being present in the markets, the SEO positioning of your website will increase, users will download it and will be able to share it, thus increasing the promotion among the community and the engagement, since they will be able to talk directly with you. In addition, you will be able to add all the multimedia content you want!
Start Free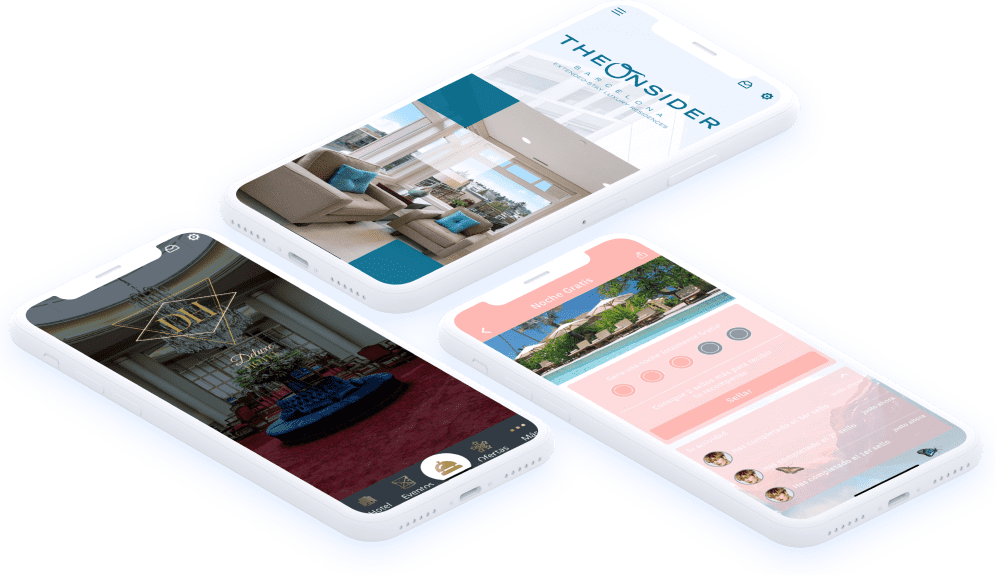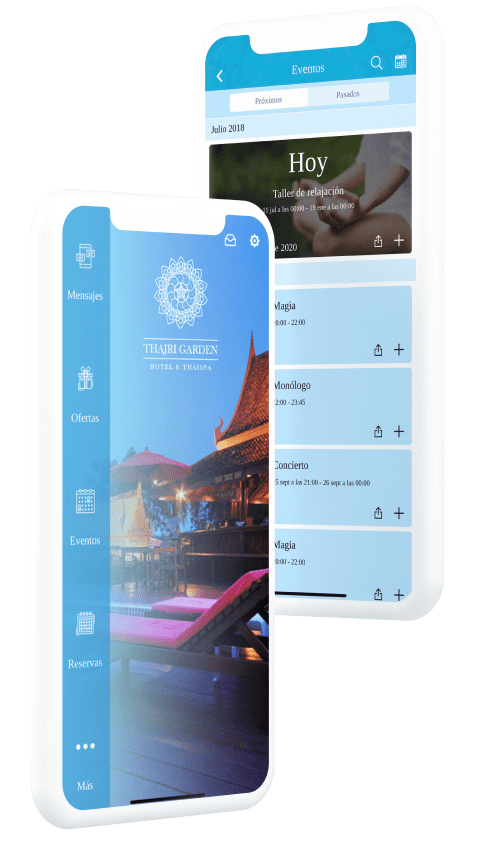 Offer other services inside your App
Don't limit yourself only to the room booking function and to make your hotel look nice, exploit all the possibilities of our technology, because you can link many services in your App: restaurant, leisure, tourism, massages, car rental, etc.. Offer a holistic user experience in an easy way and keep them always informed through personalized push notifications. Even so, if they still have doubts, they can receive telephone assistance through the call button that you can include in the menu of your App.
Start Free
Main features
for
your hotel App
Mobile technology is as extensive as it is precise, That's why you must be clear about the features you will provide your App with before creating it. Here are the ones that could be more focused on the growth of your business.
Start Free
Bookings management

You will have a management panel that will manage the reservations and extract the data of your customers so that you can keep in touch with them.

Engagement systems

Use the communication channels to talk to your customers and offer them discounts, promotions, cards, etc. You'll see how they come back!

Push notifications

Send your customers personalized notifications with offers, as well as geolocated messages when they pass by your competitors' hotels.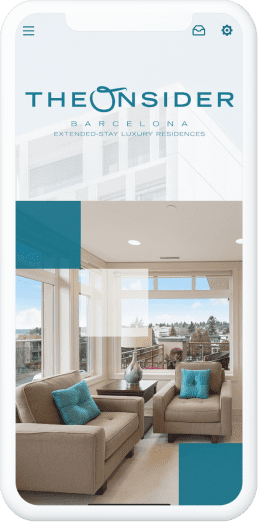 Client reviews

Get positive reviews and improve your reputation through a system That's integrated with Yelp, Facebook and Tripadvisor to reach more users.

Geolocated points

Include geolocation in your App, not only to locate your hotel on the interactive map, but also to guide customers via GPS to places of interest.

Wall chat

By increasing interaction between users you will achieve greater promotion and customer acquisition, as well as the improvement of business weaknesses.
Save money
Your own App will not only impact your revenue generation and customer conversion, it will also directly save you money in managing and promoting your business.
100€/day

Reservations and orders

1.500€/day

Mailing and advertising
Business intelligence at the service of your business
What can't be measured can't be improved. That's why we include a powerful analytics and business intelligence system that will allow you to monitor the use that your users make of your mobile App, as well as access their profiles to know them better, segment them by interests, check the status of your sales and even send them individual push notifications.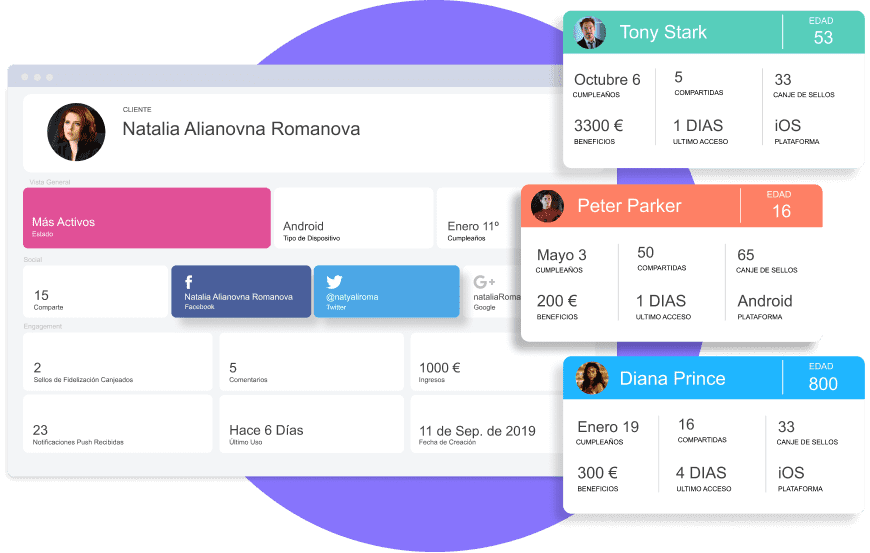 Would you like us to take care of everything?
None of our tools require any technical or programming knowledge.

However, if you already have a business or are thinking of launching one, you may not have the time to create or design your own mobile application, website or funnels. If this is your case, or if you need a custom development, our team can do it for you and take care of the whole process of design, configuration and publication of the product you want to launch or even its copywriting.
Quote